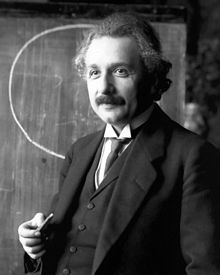 This week's quotation struck me hard when I read it.  Not because of the words directly – but because of their implication for me and you.  Check it out, read what I have written, and reflect on it for yourself.
"For the rest of my life I want to reflect on what light is."
– Albert Einstein, physicist
Questions to Ponder
How often do I reflect on anything?
What do I want to learn about for the rest of your life?
What interests me and compels me enough to keep learning about it?

Action Steps
1.  Really reflect on the questions above.
2.  When you have answers, get started.
My Thoughts
This quotation made me stop in my tracks.
It inspired me.
It convicted me.
It got me thinking  about the power of purpose and the power of learning.
It reminded me too of what successful people do that others don't. Most people wouldn't have that single-minded purpose. Most people don't reflect on much of anything, let alone something specific (and yes, difficult).
But most people don't earn a Nobel Prize either.
If you want to achieve more in any area of your life, get more focused, and start learning.
Thanks Albert.