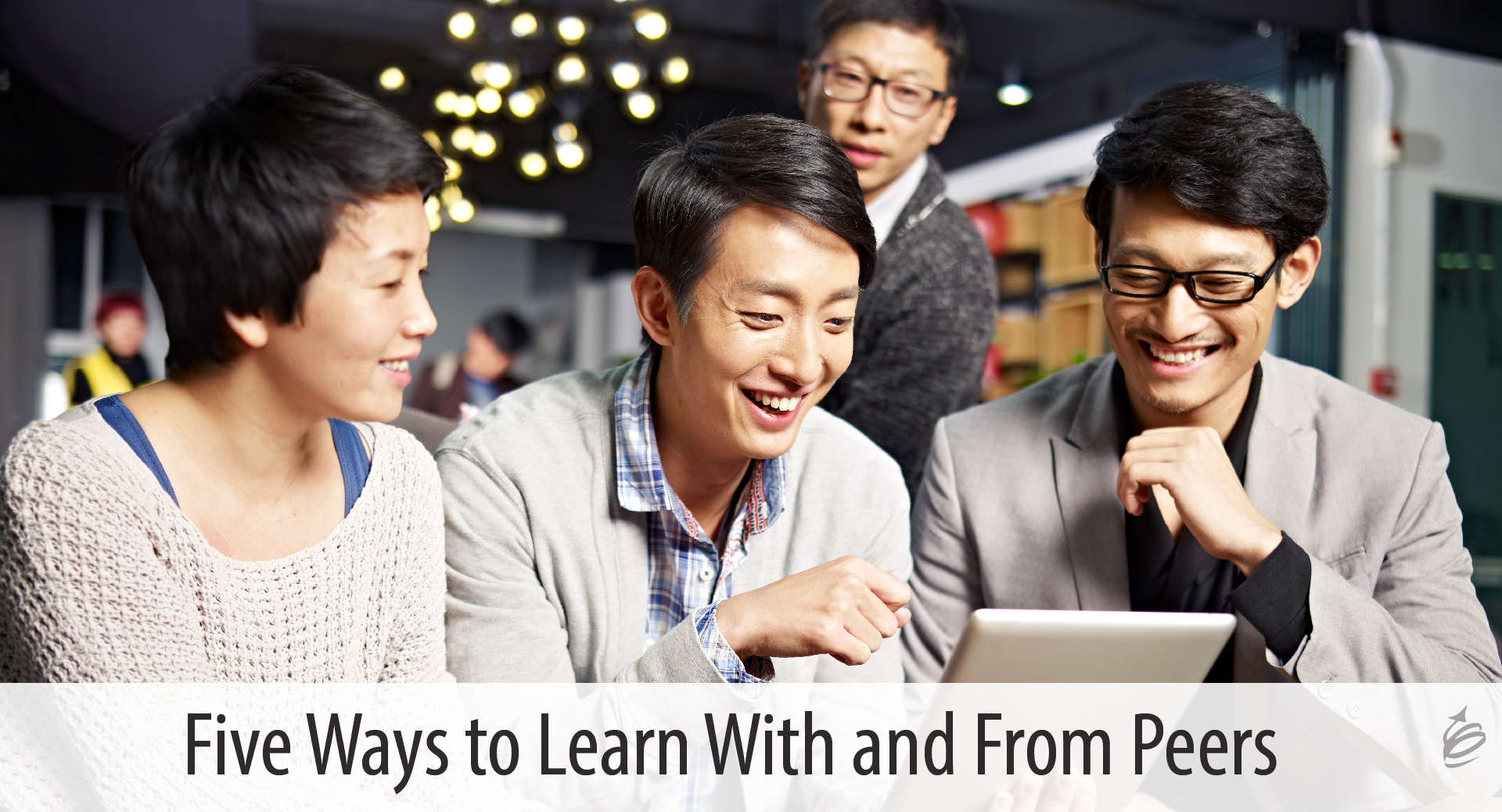 We learn in lots of ways. We learn from our experience and from trial and error. We learn from our parents, our boss, and experts. We also learn from our peers – but maybe not as effectively as we could. There is plenty we can learn from those around us. And if we are more intentional about it, it might be the fastest way to learn and grow. Here are five ways you can expand and accelerate your learning from peers.
Who am I Talking About?
I listed many of the people I am talking about in the paragraph above, and while all of the advice that follows could apply to most anyone you might interact with and want to learn from, I used the word peers purposefully.  As you read, think about the people you work with, either directly or in an extended fashion, this could include customers or suppliers, as well as others in organizations not connected to you. And while you could earn most anything using these strategies, right now think about things you could learn to be more effective in your professional life today, tomorrow, or far into the future.
The Five Strategies
Stop talking (and start watching and listening). One source of that learning is from people who are already knowledgeable and skilled at what you want to learn. Learning from them starts with listening and watching. Watch their approaches and strategies. Ask them why and how they do what they do, and how they learned it. Ask about the biggest lessons they have learned – then listen. The learning comes from the listening and observing – plus this is tangible proof that you value their knowledge, which will likely make them even more open to share their lessons and insights.
Engage in intentional conversations. Leaning from peers can happen by chance but can also happen intentionally. If you want to learn from someone you admire who has experiences you don't have, make those conversations intentional.  Gently steer the conversation to the topics you want to explore. Consider buying them lunch, and with the invitation tell them what you want to learn about.
Share your learning goals with them. When people know what you want to learn, it is more likely that they will share their knowledge with you. Until people know you want to learn from their experience in a particular area, it might never cross their mind to share it with you or know that it is welcome.
Be a mentor and offer help. So far, we've been thinking about learning from peers as the receiver of information, knowledge, and insight. Recognize that there are things you know that might be helpful to others too. When we are willing to be a mentor or offer to help (with a heart of helping, not pridefully showing how much we know), we can be helpful for the learning path of others and learn much ourselves too. When we mentor others, we get the chance to remember the basics we have forgotten, reexamine our expertise, and gain even deeper knowledge, while helping others.
Create and engage in community. Learning from peers can be memorable, meaningful, and powerful when done as a community. The mutual exploration and conversation can accelerate the learning of everyone. This is where the concept of "peer" becomes most real.  Whether in a book club, study group, or something less formal (but still intentional).  Finding ways to build learning through community can be life and relationship changing.
How We Can Help
Our upcoming Virtual LeaderCon will bring together 40 true thought leaders in leadership and both personal and professional development over five days, all in live sessions. But more than that, Virtual LeaderCon creates a community of learners. You will gain from the experts, but also from the insights, experiences, questions, and camaraderie with other learners – your peers – around the world. Last year, the community of learners was one of the best parts of the event! Since the sessions are live and interactive, you can engage with these peers in real time – and even connect with them for further post-event learning too, if you choose. Both free (access to everything live) and paid (live sessions plus lifetime access to the recordings) options are available. The details, session schedule, a list of the thought leaders, and registration information can all be found here.