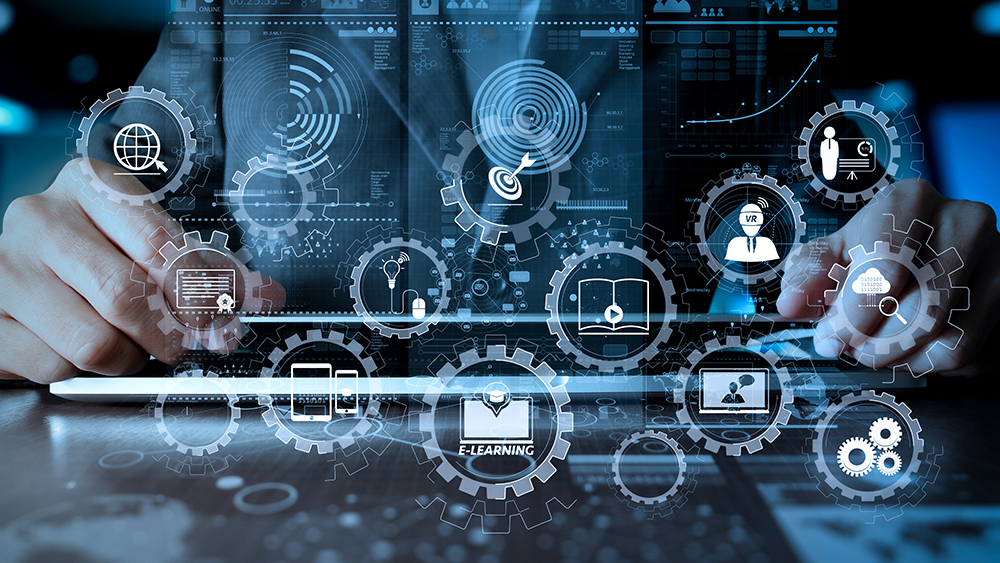 There are plenty of ways for us to learn new skills and gain new knowledge. All of them have pros and cons. Few of those options have such varied and strong opinions about them as does eLearning. There clearly is eLearning that isn't very effective, and it can clearly be misused. But rather than focusing on specific negative examples or concerns about the format, let's explore five ways to setup eLearning that works.
Here are five situations and specific ways to think about and use eLearning.
eLearning as a Standalone Solution
Here is where most people think about using eLearning and it can be a useful and economical solution when done correctly. Need to do some blanket training for everyone in the organization? Depending on the situation, eLearning might be the best solution. Need to create a trackable way to manage ongoing compliance training?  eLearning might fit the bill.
Relying on eLearning to solve an important skill gap? Here eLearning as a standalone solution likely isn't the best answer. The other options that follow use eLearning as a tool in a learning process, rather than as the complete solution.
eLearning as an Introduction
If you are creating a learning path or process for a group, eLearning can be an effective way to get people interested in, aware of, and introduced to a topic or competency. Well-selected eLearning used as prework for a workshop or other learning experience can be a great way to build awareness and kickstart a learning process. eLearning that everyone has completed before an event can be the source of conversation and stimulate interest in and motivation for the topic.
eLearning as Reinforcement
Even great workshops and training sessions have an Achilles heel – we can't practice in the real world while in those sessions. eLearning can be an effective way to reinforce learning after the learning event. Once people are back in the workplace, eLearning can support the lessons learned, serve as a reminder, and help people apply what they learned.
eLearning as Foundational Learning
Onboarding has become a popular time to use eLearning – and this can be a great time for its use. It can give people background information, history, and context. By having everyone complete the same modules, you can create a baseline of knowledge and awareness in an economical way. Be careful with leaning too much on eLearning for all of this. Plenty of people have bad experiences where the first days (or weeks) on the job are filled mostly with loads of eLearning. As helpful as it can be, make sure you are giving people the chance to interact, talk about, and connect the dots between the eLearning and the people they work with and the work they will be doing.
eLearning as an Individual Development Tool
There are two other powerful uses, perhaps the most powerful uses, for eLearning. Both are focused less on organizational plans, suggestions, and edicts and more on individual interest and need. When your team is aware that eLearning is available, it is easily accessible, and offers a wide selection, people are more likely to self-select it to meet their needs. Organizations and leaders all want team members to take interest in their own development. eLearning can support that in a personalized way.
If we give people a chance to select their learning based on interest or where they want to improve to reach a goal, they will take advantage of those opportunities. eLearning provides an economical and immediate way to fulfill this need.
And when we help people see eLearning less as a course and more as a problem-solving tool, people will reach out to eLearning to help them solve a specific challenge. Getting ready to have a difficult conversation? There's probably eLearning that works for that. Preparing a presentation? There's eLearning that can help.
eLearning is neither the perfect solution for all development needs, nor a waste of organizational money and team member time. It is a tool that, when used effectively, can be very powerful. Ultimately, the path to eLearning that works starts with using it in the right situations and helping people find value in those uses, so that they will be more open to using it in the future.
…..
If you are looking for effective eLearning – eLearning that is practical, focused on key principles, and delivered by a thought leader – look at the growing catalog of Remarkable Master Classes. Whether you are looking for specific skill development, or a range of options in your organization, this may be your best and most cost-effective option.