by Brian Tracy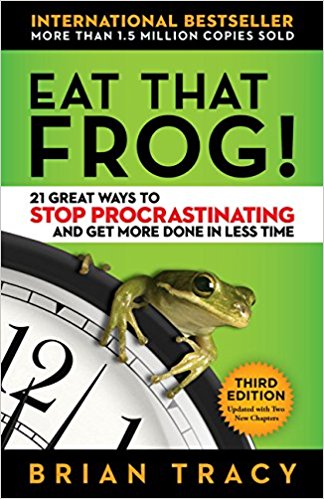 You might be thinking this is a strange title for a book, especially one that has sold over 1.5 million copies in it's first two editions.
The metaphor is that if you eat a live frog first thing in the morning, everything else the rest of the day will be easy. Because you have procrastinated in the past, I am sure you see how this metaphor applies – we procrastinate on the frogs, and we want to stop.
The good news is there are no real frogs in this book, but there are 21 short chapters (two new ones about technology have been added from the previous editions of the book) that speak directly to 21 specific actionable tips that will help you stop procrastinating and be more productive.
Some of the ideas you have heard before (e.g. focus your attention and single handle every task), but that doesn't make them less valuable if you actually use them! And the short chapters give you context and help inspire you to do these things you know will work. Others, might not make sense until you read them (e.g. identify your key constraints or put pressure on yourself), but again, the short, easy-to-read chapters will make the relevance clear to you.
If you would like to procrastinate less, and are willing to try things to improve, buy this book. The advice is relevant, specific, easy to understand, and most of all, effective. Go ahead, eat your frog (and order your book).