By Whitney Johnson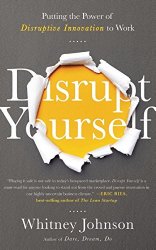 This is a powerful book for two important reasons. It connects proven ideas in a new way to help both individuals and organizations create new and better results. And it does so in a simple and engaging way.
Whitney Johnson was a superstar investment analyst and advisor, then she disrupted her life and career to do something new. It is because of her knowledge of how disruptive innovation can drive business success and her personal experience of doing it for herself that makes this a book that truly only she could have written.
Couple that with an engaging and easy to follow writing style filled with diverse and interesting examples and you have a book that is easy to recommend.
This book is based on the famous S-curve developed by E.M. Rogers in in the early 1960's (background here) which says that the adoption of a new idea or product moves slow for quite a long time then can explode moving from 10 – 90% adoption in a relatively short time.
Whitney takes this model and gives the reader a chapter for each of the seven strategies that can help us "surf the s-curve" in our lives. Those strategies are:
Take the right risks
Play to your distinctive strengths
Embrace constraints
Battle entitlement, the innovation killer
Step down, back or sideways to grow
Give failure its due
Be driven by discovery
I love the encouraging and practical approach of this book. If you are looking to change your circumstance or make a shift in direction for yourself or your business, this book can be an important part of your thought process, both leading up to the decision, and as a companion and roadmap on your journey of disruption.