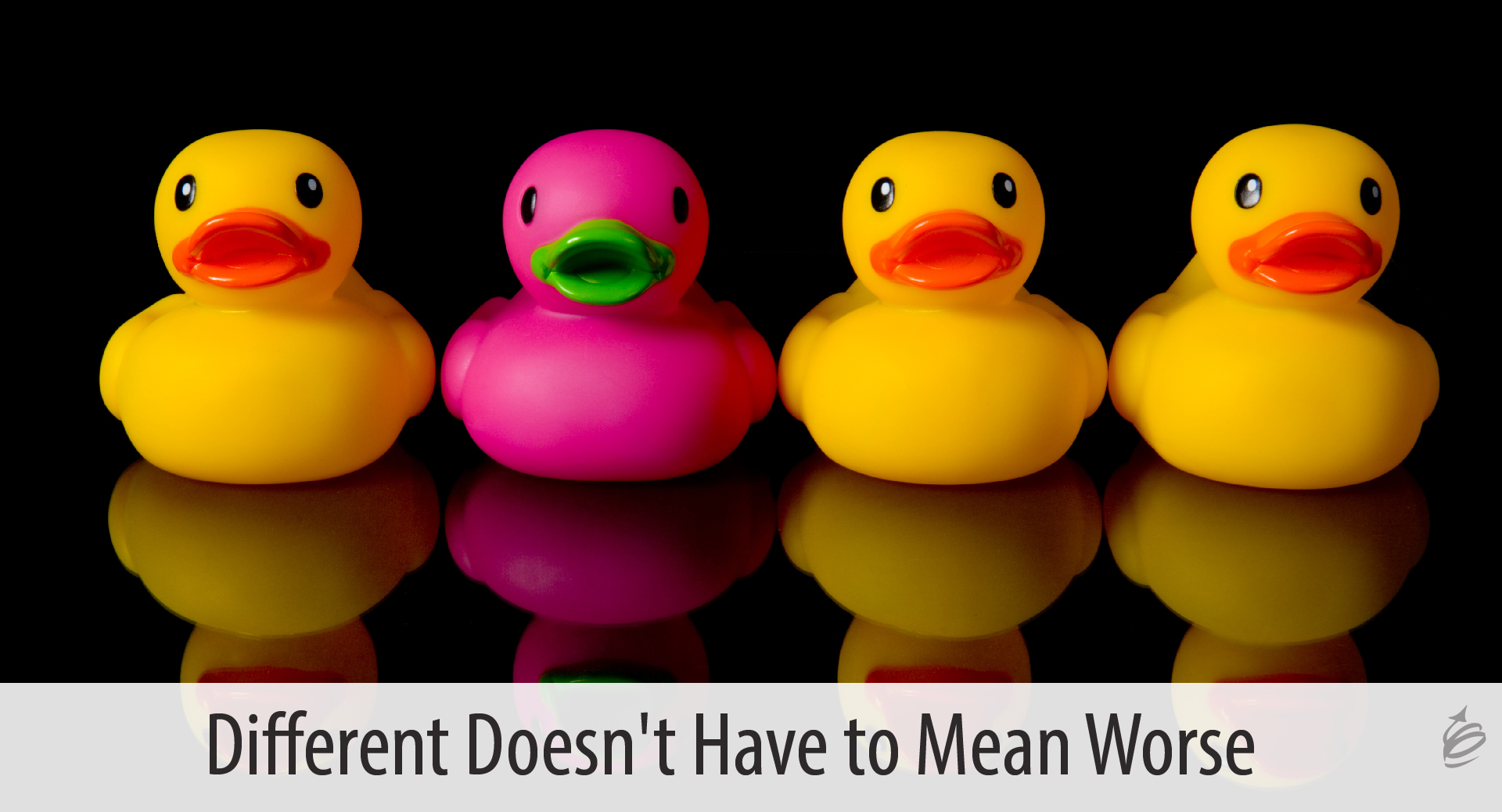 Quick – what do you think of first when you hear the word "different?" Once you get past judging yourself or wondering why I asked you the question, or wondering what the right answer is, chances are a bunch of thoughts, feelings and experiences come to your mind. If you look at that mental list, it may tell you something about how you accept change, and how resilient and adaptable you are. I'm calling it your "difference bias."
What is Difference Bias?
Difference bias is how you look at something being different. If your first thought of different is "uh-oh," your reaction to change will be different than if your first thought is "oh goodie."
I realize your first thought might be neither "uh-oh" or "oh goodie." But think about that initial mixture of thoughts and feelings you have about something being different on a scale from 1 (this isn't good!) to 10 (this is amazing!). The question for you is – What score would you give yourself now, today?
Think about when a change is proposed, or you see something different. What is your first reaction?
How it Impacts Us?
How you feel about something being different – or changing – impacts how well you will adapt and adjust. At least at first. Research shows that our mixture of thoughts and feelings about something changing or being different can shift over time, based on a variety of factors.
But it is where we are today that matters in at least these ways:
How willing you are to consider changes?
How resistant you are to new suggestions/change?
How willing you are to consider adjustments?
How open you are to new ideas from others?
How often you think of new solutions and innovations?
Where you stand on difference bias will show up in your answers to these questions and might be how you will determine where you really stand on matters of difference and change.
One Current Example
One matter of difference for many now is where they will work in the future. Many who used to work in a co-located space (an office, typically) who were forced/compelled to work from home are looking at a different future.
It might be back in the office.
It might be staying at home.
Or it might be something different.
The difference is mostly being referred to as a hybrid working model, and it is different. Think about how people have responded to that idea of different.
It has ranged from "we have to get back to the way it was" (even though that wasn't always awesome), to "we never need to work in offices again – cancel the lease!" Do you hear difference bias underneath those two opposing opinions?
My point in this moment isn't to advocate for either of those positions, or something in between, but to use that as a current situation for us to learn about difference bias and its implications.
Final Thoughts
Remember that our initial reaction to a change is real and personal. But it doesn't have to be our final belief about the change. As you learn about your initial bias, you can move past it to look at any change on its own merits. When we are able to do that as leaders, we will make better decisions and lead more effectively – both in times of change and stability.
Different might mean worse. Different might mean better. All it really means is… different. When we can get past our personal difference bias, we can look at change not from a reaction but with a holistic view. When we do that, we will make better decisions for everyone.
…
The world of work and leadership is changing. The future of work will be different. Want to stay abreast of the latest ideas, tools, and approaches to succeed in a remote/hybrid workplace? Want to both follow the trends and get tools to succeed in this new world? If so, sign up for our Future of Work Newsletter. It will help you work and lead more effectively in this new world of work. Subscribe now for free!