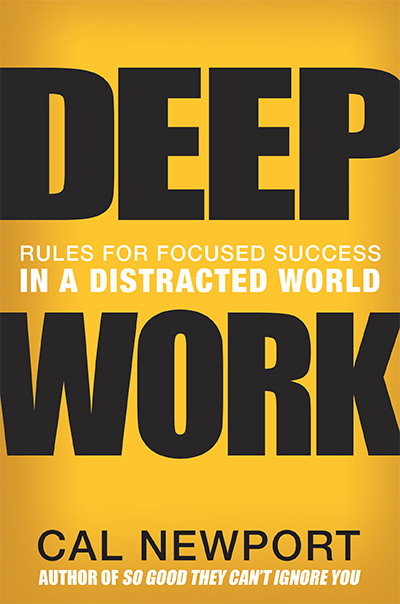 By Cal Newport
For many years I have worked to be more focused, create more, produce more and achieve more. In many ways, that last statement describes my life for the last 30 years. And while many kind people say that I am more creative and productive than most; and I have always tried to be thankful and gracious, I've known there was more.
So when I saw this book title, from an author I recognized, I was intrigued, and bought a copy. A few days later, I started reading it on a plane, and I had a hard time stopping.
I love this book.
The book has great stories, and as a trainer I will use some of them. The book gave me a load of other books I want to read, and the book mentioned many books I have already read.
But the reason I love this book is that it gives me ideas and tools to help me move closer to what I been striving for, for so many years. Beyond that it gave me a name for which I seek: deep work.
I want to do more deep work, and the ideas in this book will help me achieve that and will (continue) to inspire me in that direction.
This book is written in two sections: a first section which outlines the challenges our distracted world creates and then gives a compelling case for how we will benefit (and how we will benefit the world) if we create more deep work; and a second section of four chapters on how to do it.
The Table of Contents shows the details:
Section 1: The Idea
Chapter 1 – Deep Work is Valuable
Chapter 2 – Deep Work is Rare
Chapter 3 – Deep Work is Meaningful
Section 2: The Rules
Chapter 4 – Work Deeply
Chapter 5 – Embrace Boredom
Chapter 6 – Quit Social Media
Chapter 7 – Drain the Shallows
I have been a proponent of some of the ideas in this book for a long time, and yet this book will help me take my own practices and understanding of those principles deeper.
In short, I believe that six months from now, one year from now, and ten years from now, I will look back on the implementation of the ideas in this book as a watershed moment in my development as a thought leader, business owner and human being.
I invite you to join me on the journey. A journey that begins by reading this book.