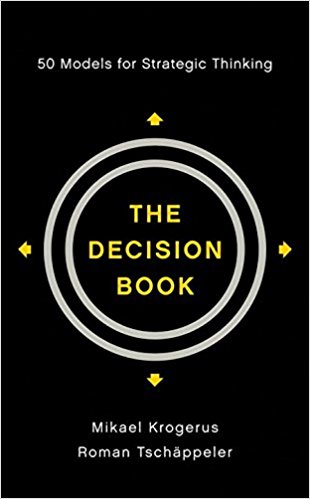 by Mikael Krogerus and Roman Tschäppeler
Ever been in a meeting when someone mentions a model, and everyone seems to know what they are talking about (except you)?
Or ever tried to remember the specifics of a model (like, what does SWOT analysis stand for)?
Or wished you had a tool to help you with a decision or discussion in a meeting?
Whether you want to know the Swiss Cheese Model, remember Maslow's Pyramids, understand double loop learning, or explain the Black Swan model, this book is for you.
This small book gives short descriptions and explanations of 50 models, any one of which could be the solution to a situation you are currently facing.
I ran across this book by accident, picked it up and read it on my next flight. While you can read it straight through, it is more like a compact little black reference book for leaders, facilitators and thinkers.
As the subtitle promises, there are 50 models here. Some were well known to me, some not. Some I have used frequently, others I'd only heard of. Regardless, it's definitely worth checking out.