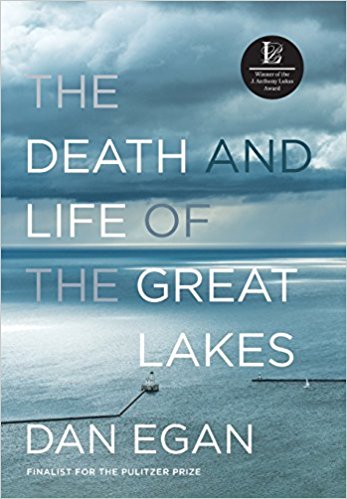 by Dan Egan
Blame it on Amazon. The magic of their algorithms showed me this book. And perhaps because I was in Michigan when I saw it, I pushed the button and ordered the book.
I wasn't looking for a book about the Great Lakes, ecology or American History, but I found all three and more.
I grew up about 12 miles from Lake Michigan, and so I have looked at it, walked the beaches of it, and played in it throughout my life. I'm not the biggest water guy ever, but there is no doubt that the Lake is a draw and an important part of the flow of life in Mason County Michigan. That's probably why I clicked "order" and likely why when it showed up it, moved to the top of my (very long) reading list.
I'm glad I read this book. The author Dan Egan wrote a book that is part ecology, part history, part science, part tragedy, part optimistic, part political, and part geographical, and completely readable and enjoyable.
The book is written in three parts – how the rest of the world impacted the lakes, how the lakes are impacting the rest of the world, and the future of these lakes. (IF you don't realize the size of these lakes, consider that the Great Lakes – Erie, Ontario, Huron, Michigan and Superior hold 20% of the world's supply of surface fresh water, and coastline of the lakes is roughly five times that of the Atlantic coastline in the United States.)
If you have interest in the environment, the water supply or the lakes themselves, you will be informed by the book. If you, like I, have personal memories of or connection to one or more of the lakes, you will find it interesting, troubling and even in places exciting.
This is a book enjoyable to read, entertaining and informative. I recommend it highly.