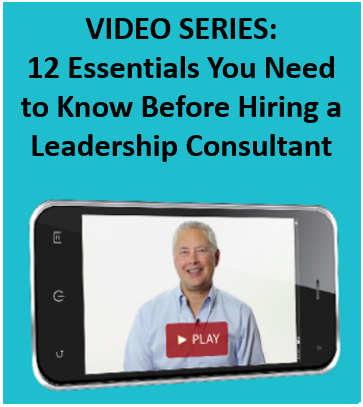 Well, by the math, consultant is an ten-letter word.
And while I am biased about the role, since I have been one for many years, I do know that many people have bad experiences with consultants – both working with them and hiring them.
Since I have done this work for many years, and since I have heard about these experiences, observed them as they were occurring, and worked with organizations after those experiences, I know there can be challenges.
I wouldn't wish for any organizations to invest money that didn't get a great return on investment, and I really don't love one of the roles I play having a bad name, so I decided to create a series of videos designed to help you capitalize on what I have learned about selecting and working with consultants.
What do I talk about in these four videos?
Three Mistakes Organizations Make When Hiring Consultants
Five Ways to Pick The Best Consultant For Your Organization
Five Roles Consultants Can Play – Picking the Right One For You
Four Ways to Get The Most From Your Consulting Investment
These videos share what I have learned from observing organizations working with consultants, serving organizations as a consultant, and hiring consultants myself. I am telling the truth, not speaking cautiously or ignoring the real challenges we can face.
Whether you are a business owner, senior leader of a business or functional unit, or any leader who is thinking of using consultants to help reach a business outcome, these four videos are for you.
How do you get them? (I'm glad you asked.) Go here and fill out a quick form and you will get access to all four of these videos.
I'll "see" you once you request them!