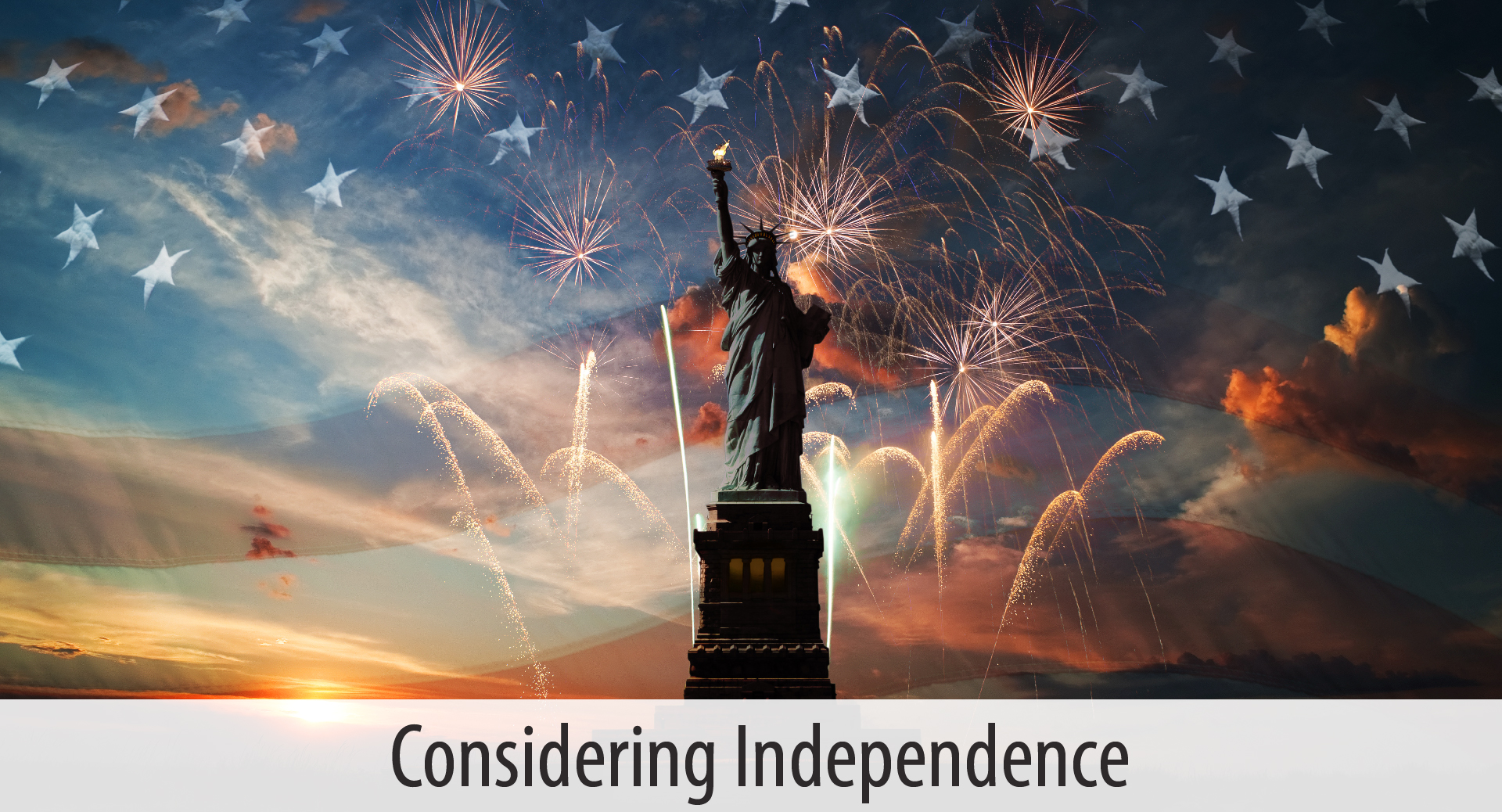 Personal independence is something to which most would aspire. Groups of people have fought for that independence. And, like anything we consider good, there is more we don't think about. As I release this on Independence Day in the U.S., let's further consider independence.
As an infant, the adults in our lives celebrate as we become more independent. When we can hold a spoon and feed ourselves and begin to walk, there is joy, pictures, and bragging.
As we grow a bit older, we take pride ourselves in our ability to do things on our own. Reading books, lifting things, climbing ladders, and more become milestones of confidence building, and we more frequently say, "I can do it myself."
Being born and raised in the United States gives me another, higher level view of independence. I appreciate the many freedoms I have and the independence I receive. Independence at this level isn't just about me though. Others have and continue to sacrifice and serve so that these freedoms are preserved.
Regardless of where we live as we mature into adults, it is hard to ignore the fact that as wonderful as personal independence is, it shouldn't be the only goal.
In our interconnected world, there is little we do truly alone. I alone am writing these words, and I will post them in a few minutes. But the blog was created and is maintained by members of our team, on a platform purchased from others, using WordPress, which was created by many others.
You can plant your own garden. But unless you saved all the seeds from last year's harvest, make your own tools, etc., you didn't do it completely alone.
You may write the report at work. But you likely got information from others, or the results or activities you are reporting come from the efforts of others.
You can come up with an idea, start a business, and thrive. But with no customers or suppliers of your raw materials, where would you be?
Personal independence is a wonderful thing to aspire to. It helps you build skills and goals that sustain and advance you. But personal independence at no expense isn't healthy – it is an illusion.
The purpose of writing this, while perhaps satisfying and even a learning experience for me, isn't all about me. Its value comes when you benefit from and enjoy it.
The harvest from the garden is likely enjoyed by others. Few garden only to feed themselves. Others will read and be informed by your work report. And while that business idea might provide you with satisfaction and a living, there are customers and perhaps a family who benefit greatly from it.
Personal independence is valuable and a wonderful aspiration, but taken to the extreme is unhealthy and counterproductive. We live in an interconnected world, are a part of multiple communities, have families, and serve on teams. Individuals can be self-sufficient without being insular. We can have pride in our capabilities and still realize we are not alone.
The highest performers, best leaders, and happiest people celebrate their personal independence, but recognize they aren't alone, and are at their best as a strong contributor to a powerful web of others.
…..
Want to keep a fresh, positive perspective on your role as a leader? Want to consistently gain practical ideas, inspiration, and information to help you be more effective and productive? What if you could get that in a short, affirming note each business day? If that sounds intriguing, sign up for my daily email.