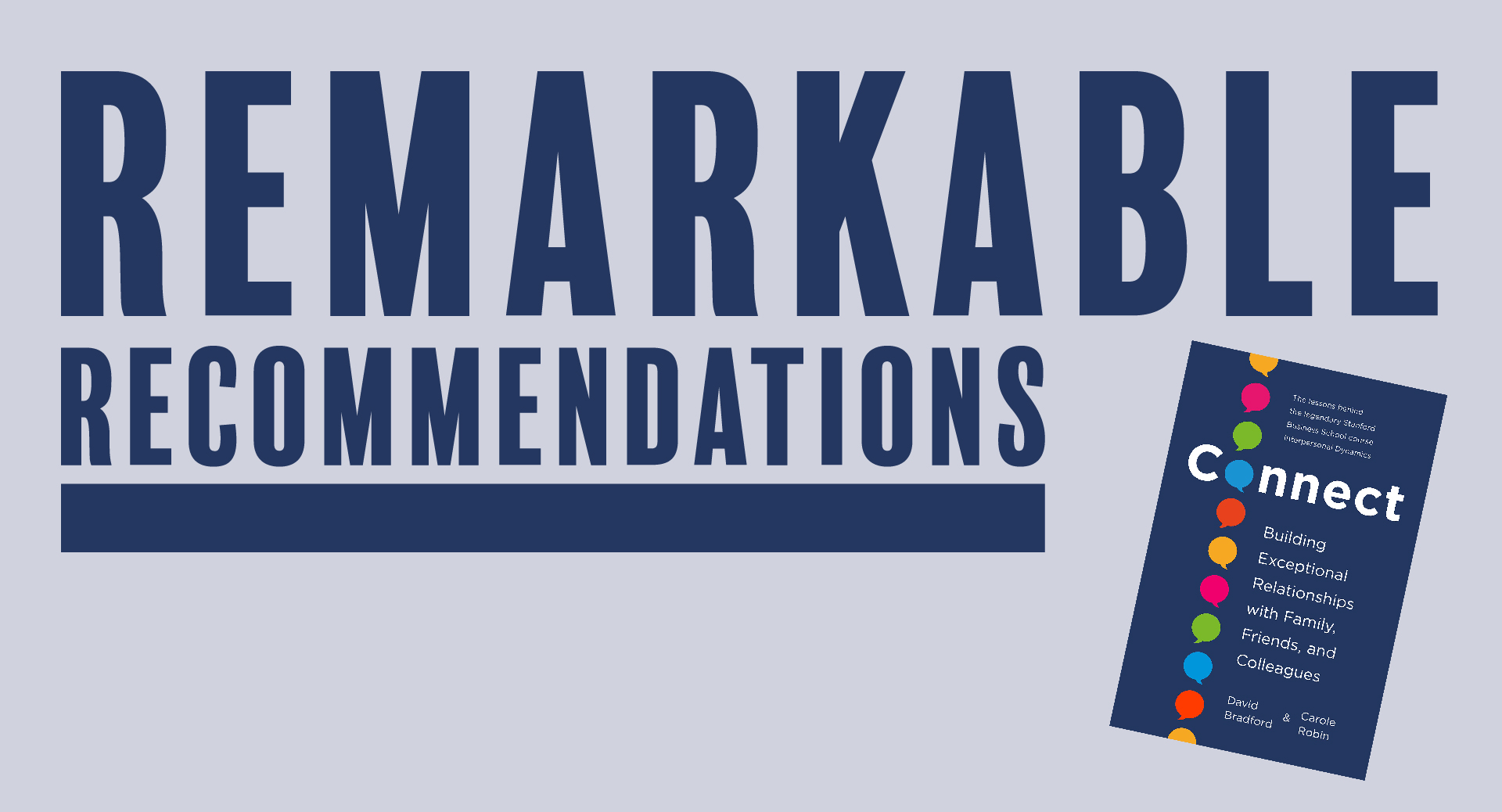 Building exceptional relationships with family, friends, and colleagues. Who wouldn't want that? Think about it this way – when our relationships get better, we get better. We are happier, less stressed, and we can get better outcomes for ourselves and others. Today, I'm recommending a book that helps define exceptional relationships and points the way toward them.
Long-Proven Methods
For many years, one of the most popular and famous courses in the Stanford Graduate School of Business has been Interpersonal Dynamics (often called "Touchy-Feely"). The new book, Connect: Building Exceptional Relationships with Family, Friends, and Colleagues, was written by the founder of that course and one of his long-time colleagues and collaborators. Authors David Bradford and Carole Robin have taught this popular course for a combined 75 years to thousands of students. Even decades later, many say it was the most important course they ever took.
Now they have brought their models, ideas, and collective experience to this new book. It outlines a definition of what exceptional relationship look like. Then, through real life examples, they unwrap more than the definition, exposing the pathways to achieving these types of relationships.
Don't let the academic credentials of the authors lead you to assume this is a textbook. Far from it! Rather, it is more like having wise mentors come alongside you, often anticipating your questions and concerns about what they are sharing. As true educators, each chapter ends with specific exercises, activities, and ways to turn the ideas from that chapter into new actions to help you build exceptional relationships.
A Conversation to Accompany the Book
Not only did I love the book, but I loved interacting with them on a live stream recently. David and Carole joined me for an exploration of some of the ideas in the book. They even gave me some specific coaching tips. Our conversation will be released soon as an episode of The Remarkable Leadership Podcast, but you can catch it here right now. Fair warning: When you watch, I bet you enjoy yourself, learn something, and come away compelled to order this book.
Whether you choose to watch our conversation or not, this is a powerful and useful book that I recommend highly.