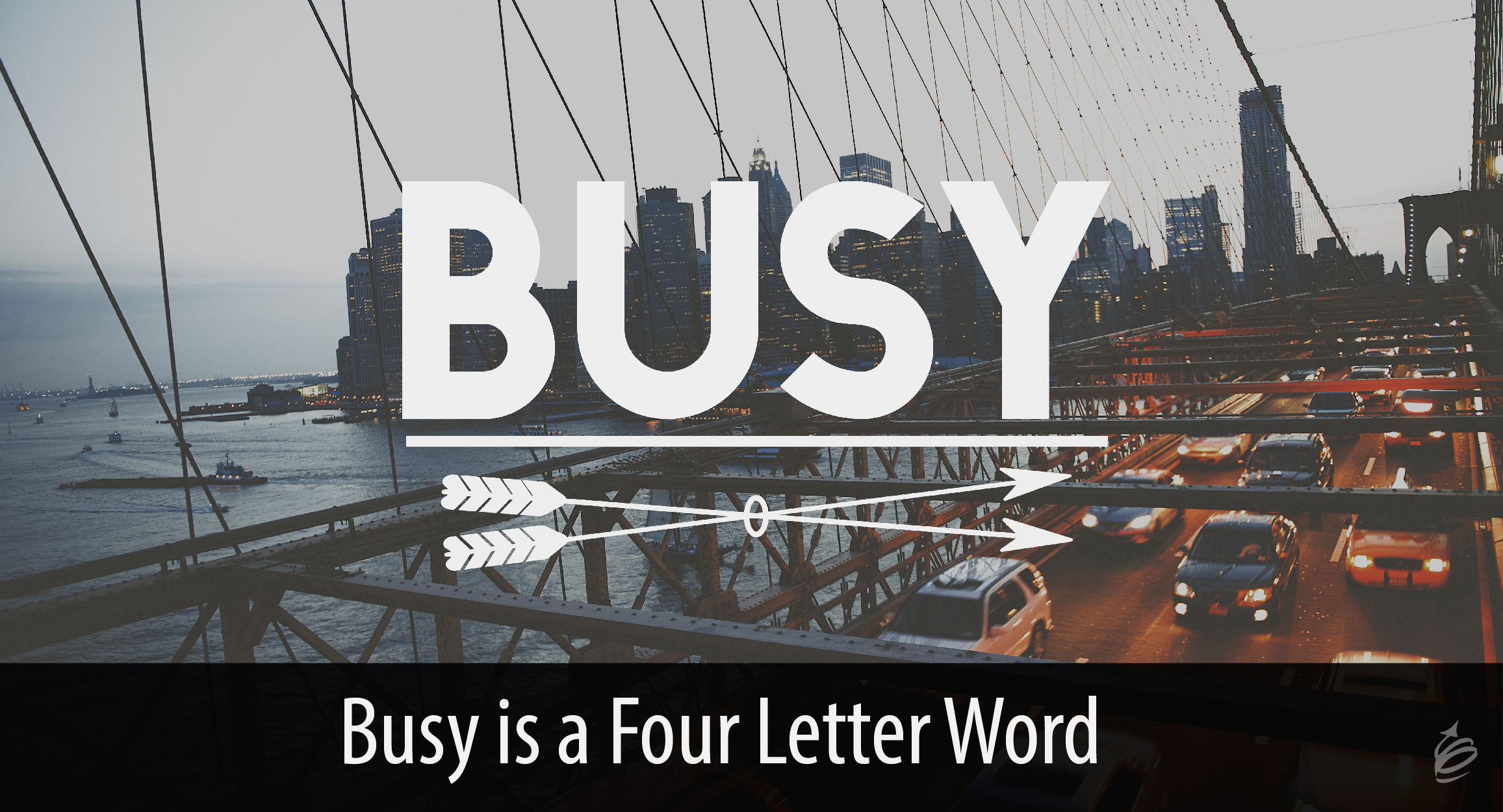 Yep, busy is clearly a word of comprised of four letters. And I believe it is a word that we should banish from our vocabulary – just like many other four-letter words our moms wanted us to suppress. Mom told us not to use those four-letter cuss or swear words because they weren't helpful or polite in public, and she didn't really want us thinking about those ideas either. That is why I think busy should be on that list. Let me tell you what I mean.
Busy Elicits Empathy
Think about this exchange that you have had or observed hundreds of times:
"How are you doing?"
"Man, I have been busy!"
"Oh, I know what you mean!"
We all like it when people understand our plight – and saying we are busy is like a direct line to empathy! Most everyone will respond like the exchange above. Even if that is all they said, we get a little dopamine surge because we know that others understand our situation.
When something feels good, we do it again. Unfortunately, that empathy, while it feels good, doesn't help us get past being busy. In fact, it allows us to settle into that mental state.
Busy is an Excuse
Here is another exchange you will recognize.
"How is that project going?"
"Well, I'm not as far as I wanted to be, because I have been so busy."
"Ok, thanks for the update."
Busy is an excuse, and often a pretty effective one. When we say we are busy, others often don't ask a follow-up question. They take our "busy" at face value, and at least for now, we avoid any further, potentially unpleasant conversation.
Busy is a Justification
We look at our too long to-do list and justify why more things aren't crossed off the list, because, well, look how long the list is! That circular argument is ridiculous, but appealing. And when you build a list and continue to put things on it that you never seem to get to, you build your ongoing justification for not getting things done.
Think of the justification as your internal excuse and rationalization for your lack of productivity. And that really helps you get more accomplished, right?
Busy Focuses on The Wrong Thing
Merriam Webster's second definition of busy is: full of activity. If we remain focused on activity, we can use busy as a justification or excuse with no problem. Except that activity isn't really what we want. We want accomplishment.
When we focus on activity, we can be busy. But when we focus on accomplishment, activity matters far less.
Let me be blunt:
Busy is a four-letter word because it is a seductive way to keep us from being accountable for accomplishing the things we want and need to do. (Tweet that)
Busy is a Barrier to Achievement
If you want to get more done, you have to take away the excuses and be accountable for your choices. It is a choice to focus on activity and allow busy to be a barrier. It is also a choice to focus on accomplishment and judge yourself on that measure, rather than on the "busy" one.
It's Your Choice
It is your choice. You can stay with "busy" and likely get less done, be frustrated by that fact, and achieve fewer of your goals. Or you can work to banish busy from your vocabulary and change your focus. The second choice will lead to less frustration, more accomplishment, more recognition (if you want it), and more goals achieved.
Regardless of the choice you make, busy is still a four-letter word.
---
For more on my thoughts about "busy," watch this.