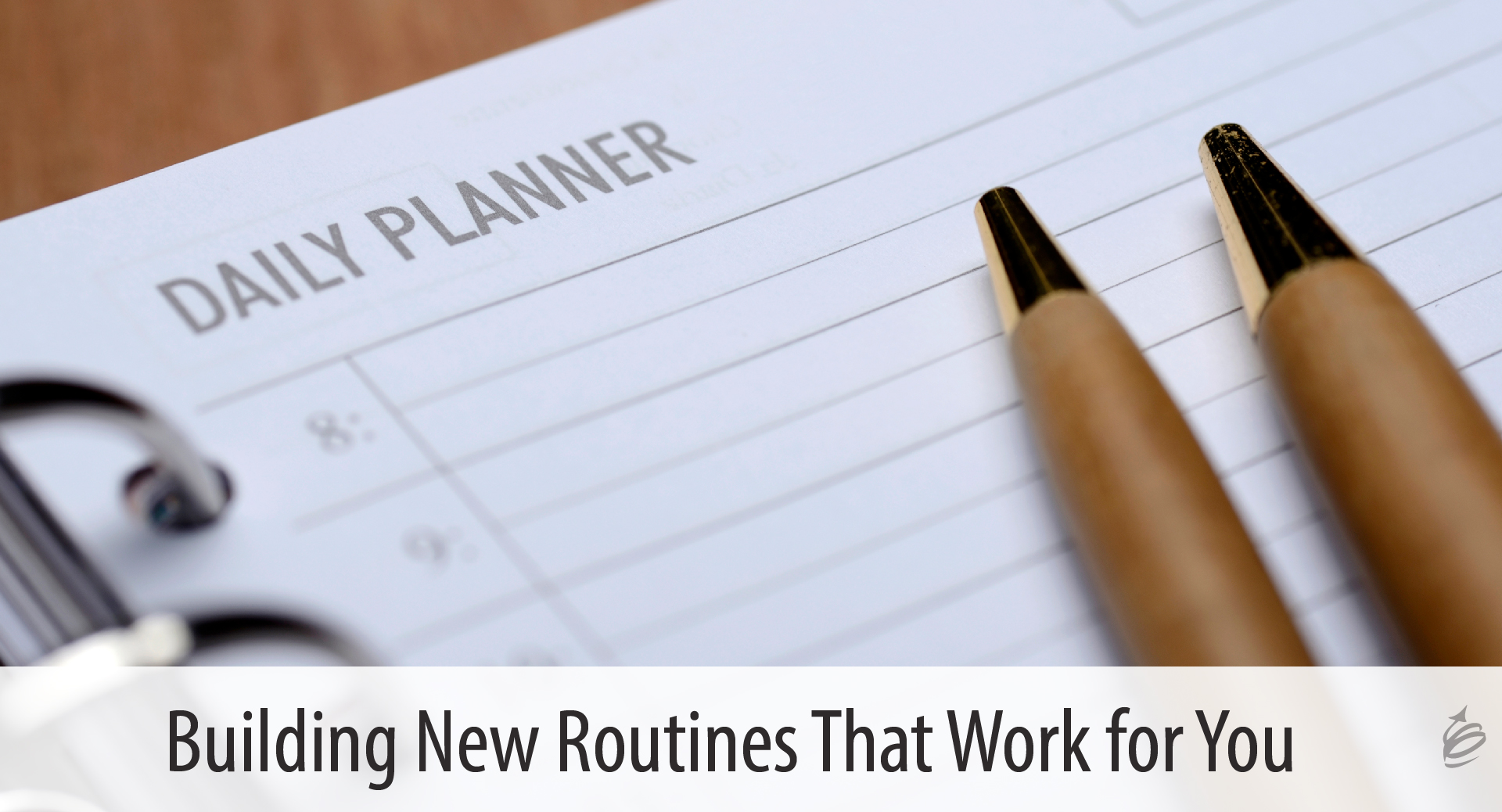 Are you feeling some unease and distress at work these days? Chances are your tried and true routines are a mess, which may be the cause of those feelings. Consciously building work routines might be the best thing you could do for your productivity and stress level right now.
Routines help us in every area of our life. Last week, I gave you six reasons why that is true. But in a new world of work when you can't remember how to get to the office anymore, your old work routines have been shattered. Here are some ways to help you determine and solidify new routines.
Chances are you are thinking tactically about this question – you want to put some normalcy back into life and work.  The drive to ask the question I've raised is an immediate and tactical one for sure, but since you are now being intentional about the routines you are going to create, I encourage to more than just "fix" the immediate problem.
Here are six steps that will help you in building work routines that will serve you immediately and for the long term.
Review your former routines, looking for the winners. Chances are there were some parts of your past work routines that worked and were helpful. Take time to determine the routines you liked and write them down.
Translate the old into the new. While the routine might need to change, the success of the old one will give you clues. Let's say you always stopped at a particular coffee shop on your way into the office. Perhaps the coffee you make won't be as yummy, but that cup in hand as you walk to your laptop down the hall might help you set the workday off on the right foot.
Ask yourself "What do I need now?" Think about the patterns that have been interrupted by your new working from home situation. Think about what you might need at three specific times – the start of your day, during your lunch period, and at the close of the workday. The situation is different and so the needs for your routines might be different too. Now is the chance to brainstorm and create what will work for you.
Decide, then map it out. As you determine the pieces you want for your new routines, write them down. Perhaps you will start small, but to get the power of a routine it must become a habit. Write down the routines you have identified, with the steps you want to take. Writing it down will make it clear and help you make it realistic too.
Make a checklist. Before it can become your new routine, it must be practiced. Turn it into a checklist – at whatever level of detail you need to make it helpful for you. This will give you the roadmap for practice.
Get started. Now you can begin applying the new routine! It is new and so it might not be natural at first, and in practice your checklist my still need to be adjusted. All of that is ok and natural. Give yourself a break and give it a try. Even when it isn't perfect or yet a routine, you will begin to see the advantages it brings you.
You can apply this approach to change or create any routine.  Apply it now to building work routines and you will be developing more than just new routines – you will be creating a new life skill.
….
Helping you find a new rhythm and productive work routines are just a small part of what is included in our 12 Weeks to Being a Great Remote Teammate learning experience. This learning systems gives remote workers the skills and tools to be more productive, more engaged, and more successful in this working situation.
If you want to support your remote workers or improve your own skills, you owe it to yourself, your team, and your organization to check it out. And currently, it is available at a 75% discount!