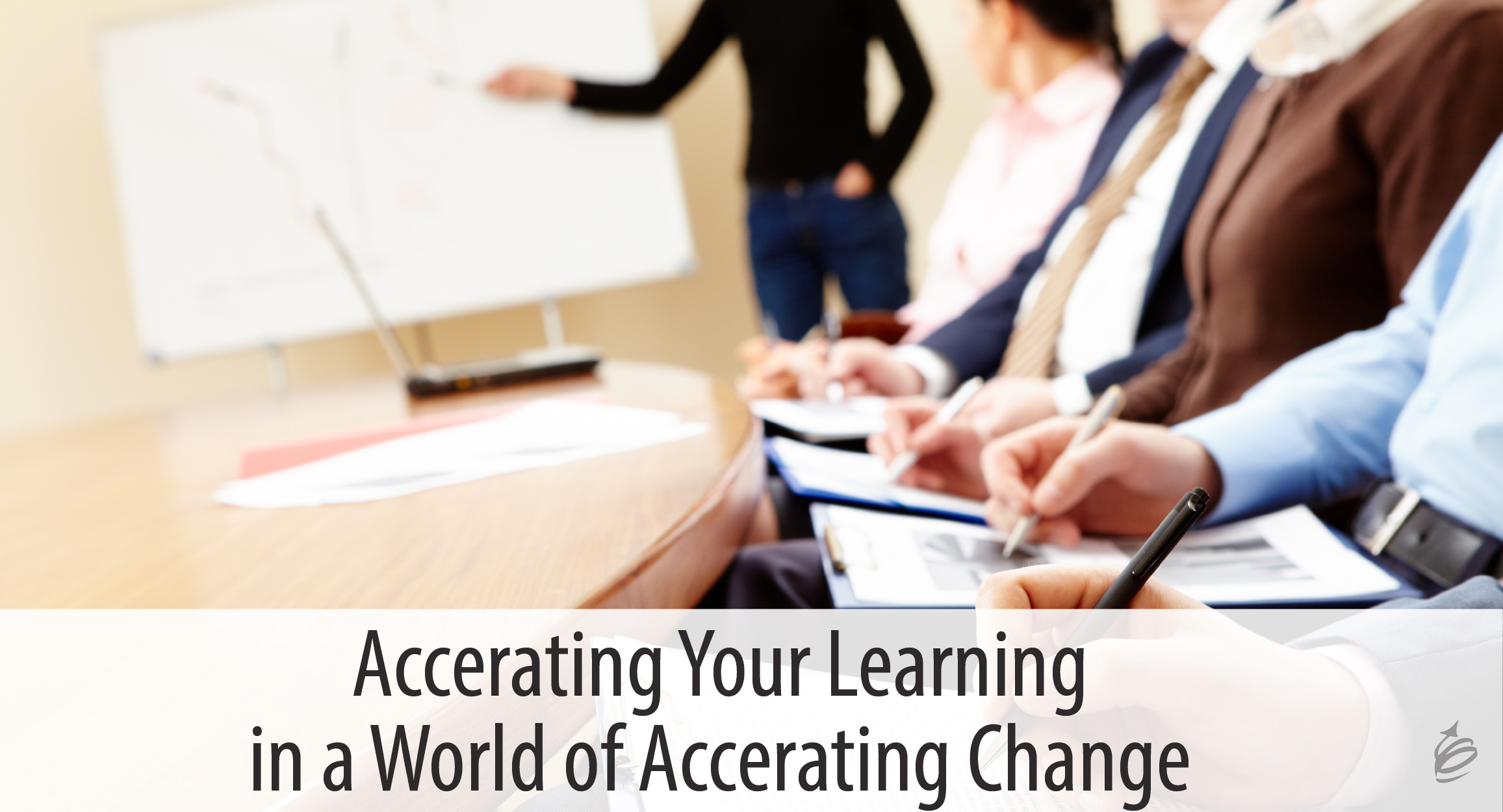 Here is a news flash – the world is changing. In fact, by many measures (including your own experience), it is changing faster than ever. For an achievement minded person, like you, this is exciting news, but it also creates an important reality: it is harder than ever to be truly great at anything.
Since we live in a world of accelerating change, we must accelerate our learning if we want to be highly effective, successful, and productive.
A Model for Great Success
Let's look at a process to get really good at anything:
Find role models to determine best practices.
Learn/integrate those best practices.
Experiment to further improve.
Make mistakes/learn.
Find improvements and integrate them.
This process is really for an individual, and I recommend it highly. While this process hasn't inherently changed in effectiveness over the last several hundred years, our ability to assimilate the best practices continues to get harder. Here's why.
Why it is Getting Harder
Applying this process is getting harder because the number of best practices and the volume of learning required to apply them continues to expand. Here are two examples:
This means that the bar to be great is rising and if we want to succeed we must not just reach that bar but work to move ahead of the pack. While all of this is true, there is a very big ray of sun behind these clouds of challenge and uncertainty.
That ray of sunshine is our ability to learn.
How We Choose to Learn
We recently completed an unscientific survey of some of our readers to ask their favorite ways to learn, and here is what we found: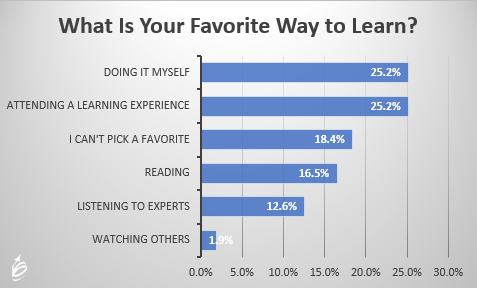 With respect to all of our respondents, if we want to succeed in the world today, we need to side with the 18.4% – and not be able to decide. Because to accelerate our learning, we can't pick one (or two) ways to learn, we must integrate many of these approaches (and more) to learn and grow at the rate required for our success.
How do we do that?
Accelerating Our Learning
The four pieces of advice that follow are specifically meant to address the need to accelerate our learning in the real world we live in to meet the learning demands for us to thrive in a rapidly changing world and workplace.
Say "Yes, And". To further the point in the previous section, we can't rely on one way to learn, because it is our favorite. We likely must read more. Mark Cuban reads 3 hours a day, Bill Gates reads 50 books a year and Warren Buffett spends 80% of his day reading (source) – but don't consider that they can now read because of their role in their organizations, consider that they have their roles in part because they read. But we must listen, and watch and attend learning experiences and much more. We will accelerate our learning when we expand the number of sources/inspirations and avenues from which we gain knowledge, insight and inspiration.
Extend External Focus. While I am a big believer in the power of reflection and learning from ourselves, this can't be our only source for growth. Taken to the extreme and in a vacuum, that leads to insular thinking that can't move us to new heights of success and results. We must look to other experts, coaches, mentors and more – through reading, listening, watching, interviewing and more – to accelerate our learning.
Choose to Focus. When you read about the growth of data and knowledge information I shared, you might determine all is lost. Yes, we must step up our learning game, but we can't know it all, so we must focus. As an example. If you want to be a better leader, in what ways do you want to excel? Focus on becoming more expert in more specific areas, one at a time. Consider quarterly or annual learning focus areas or goals as a way to accelerate growth and progress in targeted areas. I've written and spoken to this idea before. Here are two examples – in video, and in writing to help you think more about this.
Connect to Principles. All the learning in the world won't help if you have an accumulation mindset. As you are learning new ideas, discoveries, techniques and approaches, always be connecting it with what you already know, and the principles that you already know work. As you take this connection approach, the new learning will be more helpful and more valuable – and the effort will be rewarded more quickly. Doing this will help as you learn and you will be doing more than accumulating facts, you will be expanding your insight and wisdom.
I hope this article has informed you, challenged you, and inspired you to take action. If it has, I have met my goal, and helped you learn something valuable.
If you are interested in focusing on improving your leadership skills in the real world using a variety of learning approaches, try one of my LinkedIn Learning courses.