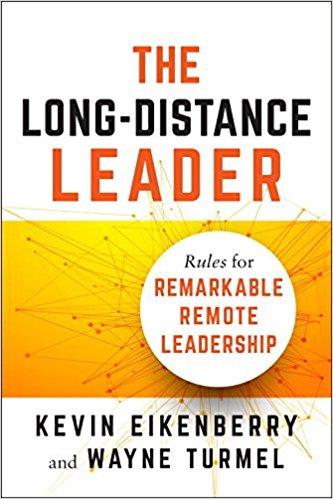 If you lead a team that is remote part or all the time, whether they are across town or around the world, you are a Long-Distance Leader. And if that isn't you today, odds are high that it may be sooner than later.
The trend towards people not being "at work" is growing and evolving; and when you aren't with your team face-to-face all the time, how you lead them changes, whether you have thought about it or not.
On February 1, from 1-2 pm ET, Wayne Turmel, the leader of the Remote Leadership Institute and co-author of the forthcoming book The Long-Distance Leader: Rules for Remarkable Remote Leadership, will lead a one-hour, free webinar titled: What Long-Distance Leaders Need to Know – Developing Leadership Skills for How We Really Work Today to help leaders grapple with this changing landscape of work.
The challenges and needs of the Long-Distance Leader do continue to change and evolve, and in this one hour session, Wayne will share his latest thinking, newest models, and introduce some of the nuances for leading remotely that are included in the new book, coming in June.
If you wonder how to communicate and coach your team members when they aren't always in the office; if you wonder how to build your team successfully at a distance; or if you wonder why leadership just seems harder than it used to be, you will want to invest one hour with Wayne.
If you are a leader in an organization that is moving to a more flexible remote workforce, you need to invest an hour to spend with Wayne.
If you have a leadership development program, but aren't addressing leading at distance, you will want to spend one hour with Wayne.
Not everything about leading at a distance is different, but the differences matter a great deal, and what those differences are and how to capitalize on them will be a central focus of Wayne's hour with you.
This webinar will provide you with new insights and specific actions you can take to lead remotely more effectively and with greater confidence.
It isn't often that you can spend an hour with a true thought leader at absolutely no cost. Register today!
POST UPDATE:
Since the book launch in June 2018, we are offering new and different bonuses with the purchase of The Long-Distance Leader. To learn more and order a copy, visit the book site here.