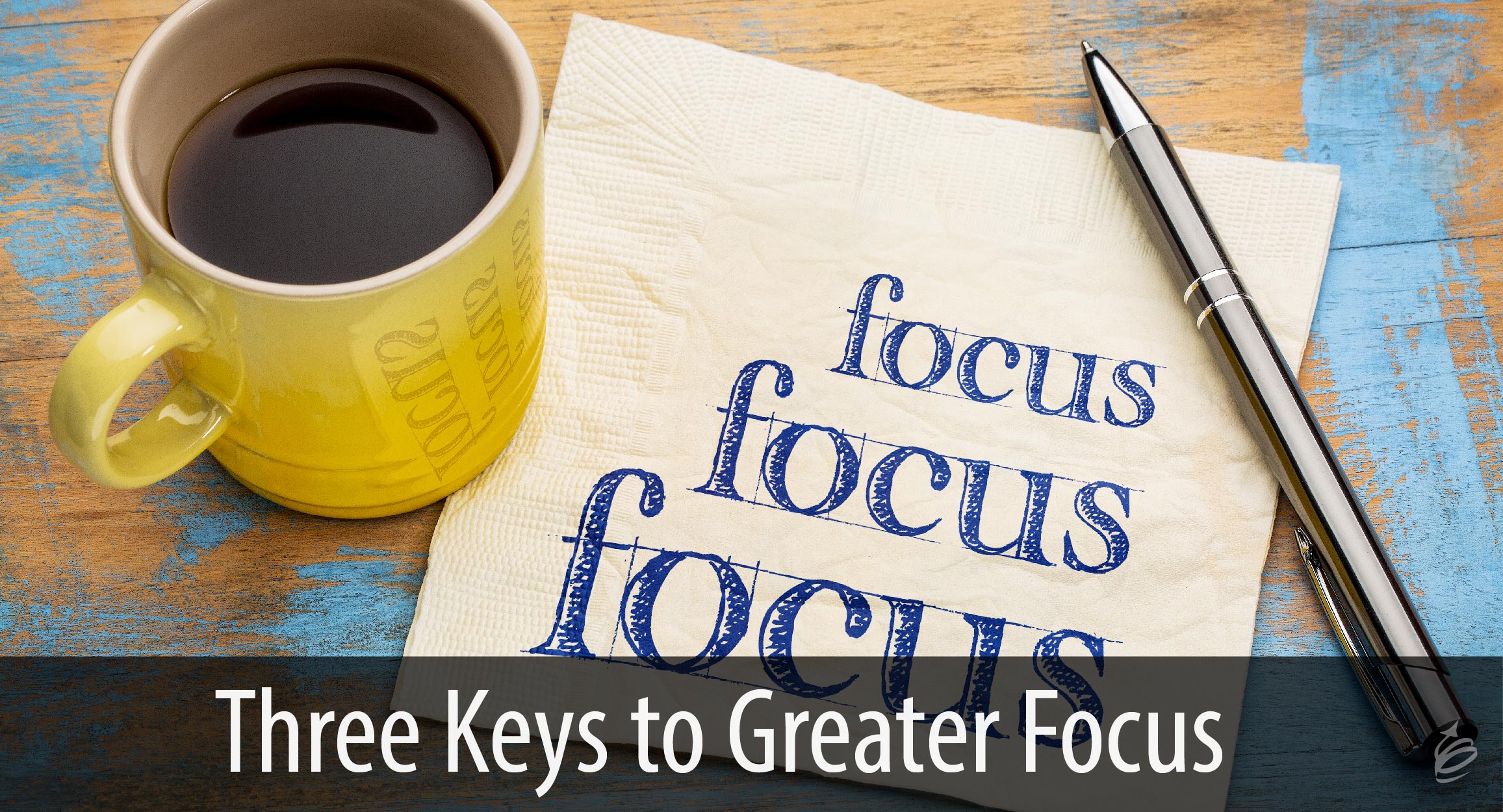 In the world today with electronics of all kinds beckoning us, with the speed of the world ever quickening, and with work expectations continuing to ramp up with leaner organizations and a 24/7 world, we are all feeling it.
In the crunch to be more effective and productive, we yearn for greater focus.
If you wear corrective lenses of any kind and go for your annual vision check, you know what it is like when your new prescription is applied. You see more clearly with greater focus. Suddenly your mind doesn't have to think about focusing, things already are clear without "working" at it.
We all know how important focus is, but many of us aren't very good at it. It is something I often struggle with, and so writing this article is as much for me, as it is for you. Without reservation, I can tell you that when I take the advice that follows I am far more focused and productive.
Plan
Daily planning is critical. Many people have a "to-do" list, and while having one will help you be more focused than not having one, most people don't use them to maximum benefit. People make one, or both, of these mistakes:
The is list is all the crisis items of the day, and the activities of the day center on the urgent, rather than the important things that will make the bigger difference.
The list is too long, and actually further distracts and steals the needed focus.
These three actions will create greater focus from your daily planning.
Align daily work with goals. The most important thing you can do to increase your focus is to have goals. If your goals are clear, written and remembered, it is much easier to re-focus your efforts towards them. Goals provide a compass for your efforts. Make sure your list for the day includes items specifically related to your goals.
Finish daily planning before the day begins. Some research suggests doing this the evening before because it allows your subconscious to "work on" your list as you sleep. If not then, do it at the close of the previous day or at the very start of your morning.
Prioritize the list. If you have the long list syndrome, identify the five things that are most important to be completed that day. Make sure that at least one of those things is in service of your most important goals, not just putting out the urgent fires you face.
Question
There are some questions you can ask yourself throughout the day to help you stay focused. They include:
Is what I am doing now focused on my most important objectives? If the answer is yes, great! If the answer is no, time to re-focus.
How is my energy level? If you feel it waning a bit, take a five-minute walk, eat a smart snack of almonds or some other energy food, or at least get up from your chair and stretch.
What is the best use of my time now? This classic productivity question can help you re-focus in an instant.
What is distracting me now? If something is, determine how to quickly handle it, or remove that distraction. Which leads to my third set of ideas…
Remove
Distractions are everywhere. The TV, a cluttered desk, the "ding" of a new email being delivered, more advertising in more places, cell phones … I could go on, but you are already thinking of the biggest distractions in your life. Try these simple, obvious ideas. Don't just nod as you read, do them.
Identify them. Make a list of the 5-7 top things that distract you (at work or at home – wherever you are trying to increase your focus). Make the list right now.
Make a plan. Identify what you can do to remove, eliminate or defer the distraction when you most want to be focused.
Literally remove them. Some are easy and obvious. Turn off the TV. Clean your desk. Turn down the volume or (better yet) turn off the ding. Have someone answer your phone while you work on that project. Screen your calls. You get the idea.
Focus and clarity are siblings. Both are required for us to achieve greater results, and come ever closer to unleashing our potential. I wish you the best in your efforts to increase your focus. I promise that your efforts will be rewarded with greater productivity, higher quality work, and new opportunities.