By Charles Leerhsen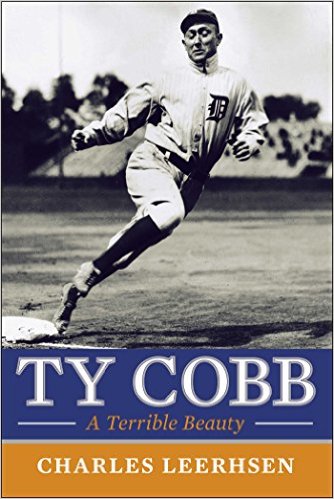 This is the latest, and I believe most accurate and complete (more on that in a minute) biography of one of the greatest baseball players ever to live. To give you some context, here is a paragraph from the Amazon.com description of the book:
Ty Cobb is baseball royalty, maybe even the greatest player ever. His lifetime batting average is still the highest in history, and when he retired in 1928, after twenty-one years with the Detroit Tigers and two with the Philadelphia Athletics, he held more than ninety records. But the numbers don't tell half of Cobb's tale. The Georgia Peach was by far the most thrilling player of the era: When the Hall of Fame began in 1936, he was the first player voted in.
Ty Cobb was one of the first real sports celebrities, beloved and admired as a player. And while he was no angel, over the years his sometimes mercurial behavior (yes, he got in more than a few fights on and off the field) morphed into a common perception that he was mean, mean spirited and a racist. This belief has been promulgated through a variety of books and articles about him (mostly since his death in 1961), and he is even mentioned disparagingly in the great baseball movie Field of Dreams.
This book, exceedingly well-researched, debunks most of the myths and prevailing wisdom about this great ball player and interesting man. The book details and explores his life like any good biography does, all the while pointing out where it seems the myths were spawned, from a seed of truth (or when there wasn't even really a seed, but where the fiction emerged). The author isn't a full-fledged apologist for Cobb, but rather a well-regarded writer and historian who set out to create the most complete and well researched book about Cobb's life.
I like this book for four basic reasons.
First, I am a sports fan – and while I don't follow baseball as much as I did as a kid, I am a Tigers fan – so getting insight into the greatest Tiger ever was fascinating. Second, I love reading about history. This book does a great job of putting Cobb and baseball into the context of the early 1900's in the United States – and baseball's role in popular culture and the public consciousness. Third, I believe there is much we can learn from a well-written biography of a high achiever in any endeavor, and his book is a clear example of this.
Lastly, I was fascinated by how the myths became truths; how powerful and prevalent they became, and how damaging they have been to the legacy of Cobb. As mentioned, the book points to some of these things throughout, but after the biography closes, the author provides a final short segment where he looks to the authors and promulgators of some of the fiction-made-fact, trying to make sense of what happened and why. While this section may not make sense without the full context of the story, it alone is worth reading the book.
This book has given me a new perspective on Cobb, baseball, the media and more. It has left me thinking and pondering about the difference and importance between fact and opinion. It inspired me in some ways and saddened me in others.
Any book that can do all those things is worth reading. Ty Cobb: A Terrible Beauty is worth reading.