Happy Father's Day everyone!
I'm a proud Dad and I am travelling today, Father's Day.  I spent a great night with my wife and kids last night and saw them before I left this morning.
I'm very blessed.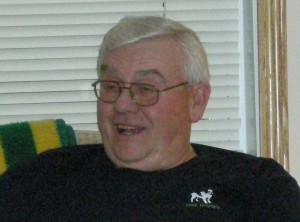 I'm doubly blessed because I had a great Dad who, while he is no longer alive, taught me many things – mostly things to replicate, and a few, well we'll just say we can all learn from things not to do as too (before you get all excited, my Dad would have been the first to agree with me, and I hope my kids learn some things from me not to do – because I am far from perfect!)
While I am happy to wish everyone happy Father's Day I realize that is a wish for roughly half of those reading, and you may be reading after the "day" has past.
None of that really matters because this post is timeless, and gender neutral.
Take time today to think about something you learned from your father that applies to you as a leader.  The skills of parenting and leadership, while not a direct match, overlap more than many people stop to consider.
One of the many lessons for me was to lead by example.  My Dad nevered asked you to do something he hadn't done and wasn't willing to do.  He backed is beliefs with his actions.  His example, taught me many powerful things, and as a I mentioned, a few things I choose not to replicate.  I learned both from his example.
I am a better parent and leader for that example.
Regardless of your relationship or experience with your father, you can find lessons.  It may take you a few minutes of reflection, and that is ok.
If you never had a father in your life, you can transfer your reflection to a father you have observed in some other life situation.
My goal for you after reading this post are three-fold:
I want you to  think, to reflect, and to find the lessons that are there for you.  Whatever you find will be correct.  There are no wrong answers.
Take action to apply the lesson in your life work and behavior.
If your father (or the father you reflected on) is alive, thank them, and be specific as to why you are thanking them.  It will be the best gift you can give them.
Time for you to get to thinking, and for me to get on an airplane.
Thanks Dad.