It's becoming as big a tradition as the Thanksgiving holiday itself – the Black Friday and Cyber Monday sales. And this year, many stores have started or will start earlier than Friday morning with their sales. I'm not a fan of waiting in long lines, and not everything I want or want to give can be found at a Big Box retailer, but I do like the idea of helping people get a great deal, and starting early.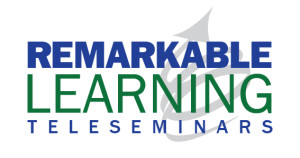 Announcing our Remarkable Learning Holiday Shopping Opportunity!
Starting today, you can get a 25 % discount on CDs of any of our past calls. With these recordings, you also get a link to download a copy of the accompanying handout – making this as valuable as being with the session live, with the advantage of learning  when it is convenient for you – and that you can share your CD with others!
Over the past 15 months or so, we have created and marketed over 60 teleseminars and offered them for sale.  (You may have purchased one or more – if so, thank you!).
From now until December 6, you'll save 25% on any and all Remarkable Learning CDs. Simply enter promo code THANKS at check-out to receive your discount.
Growing up, my mother taught me not to buy things for myself before Christmas. My mom is right about many things, but not in this case. You should consider making a purchase now for lots of reasons, including .  . .
1. This brings the training to you. We understand that your schedule is already overloaded. And with our CDs, you can listen (and learn) wherever you choose!
2. It is incredibly cost-effective. Share the CD, put it in your training library. Once you have the CD, you can train as many people in your organization as you want!
3.  You still have budget money. But not for long. When the new year comes, the budget is gone. This is a great way to give the gift of learning to your organization while there are still funds available.
4. Your satisfaction is guaranteed. Every CD is backed with our guarantee of complete satisfaction. If you aren't 100% satisfied with the training, we'll refund your entire investment. No questions asked.
5. Your Mom won't buy these for you anyway.
Poring over 60 descriptions might sound harder than waiting in line at WalMart Friday morning. And while you can get the discount on as many different CDs as you want, here is a list of our most popular titles from this year:
– Nine Minutes on Monday – The Quick and Easy Way to go from Manager to Leader
– Performance Review 2.0 – How to Conduct Performance Reviews that Actually Impact Performance &
Create Engagement (led by Marla Allen – one of our Certified Coaches and Trainers)
– Stop Managing and Start Leading – Learn the keys to empower and inspire others without drama and
frustration!
– From Bud to Boss – The Top 6 Management Survival Skills for First-Time Supervisors (led by Guy Harris, co-author of the best selling book of the same title)
– The Toxic Workplace – Management Strategies for Dealing with Negative Attitudes & Destructive Behaviors that are Sapping Morale and Destroying Productivity
To see even more of our CD products to help you with leadership, communication, and workplace issues, go here.
Before I go, here are two final reminders:
Orders placed after 5 pm ET today (11/27), will ship next week.
To get your 25% discount, order by December 6 and use promo code THANKS at checkout.