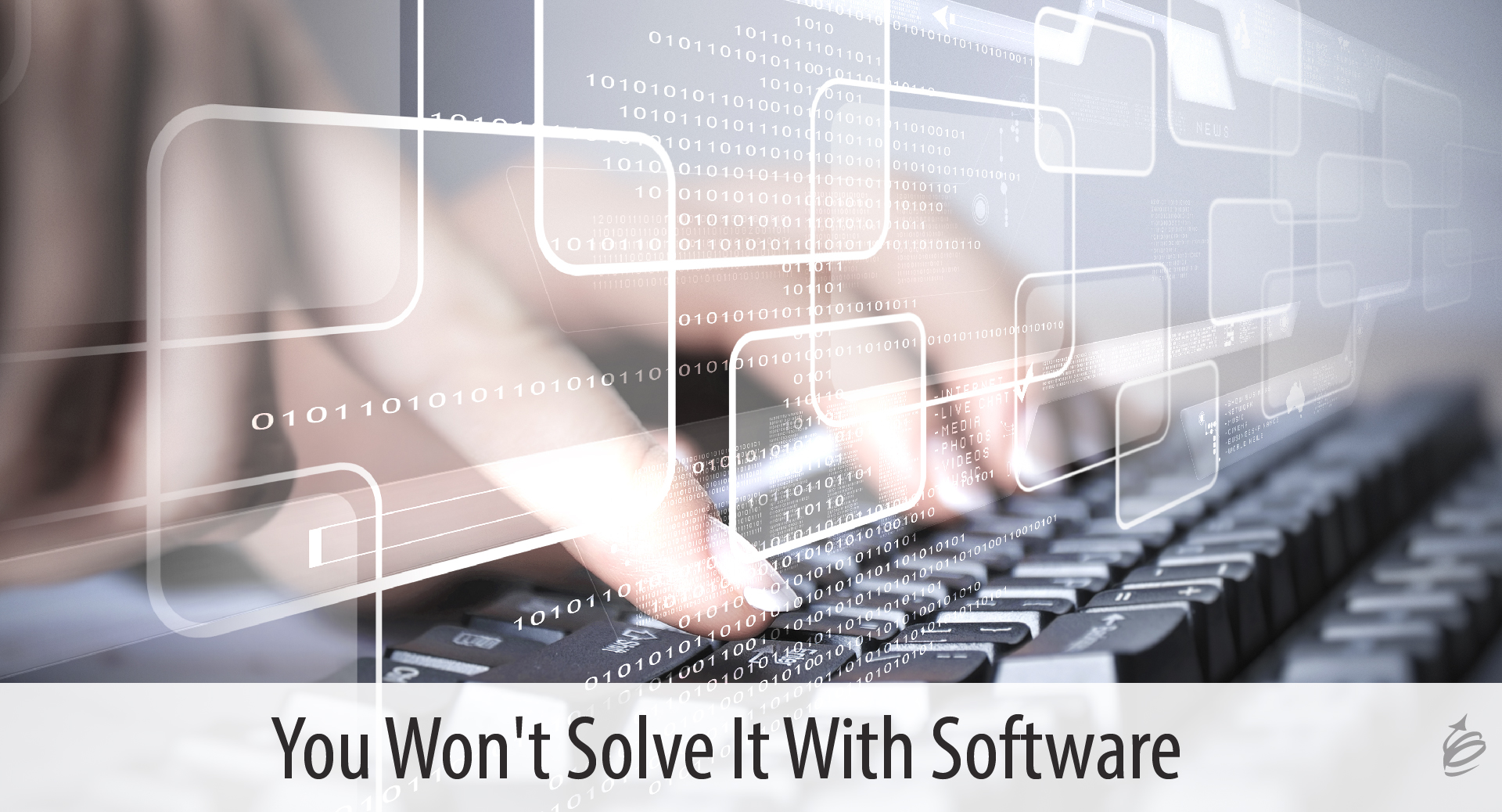 I wish I had a dime for every time in the last few years someone asked me for my recommendation for the best software tool, the best web platform, the best collaboration tool to facilitate long-distance work. I understand the question. Software is needed and can help us lead and work at a distance more effectively. The question though points to the hope (delusion?) that the right software is the answer. The truth is there are limits to technology and how it will help people get work done.
I get it – software seems like an easy answer.  Our meetings are very effective – maybe we need a better tool.  Communication isn't very effective, is there software that can help? Chances are whatever tools you are currently using can give you 90% of what you need.  The problem isn't the software, it is how you are (or more likely aren't) using it. Research has long shown that the average organization is using about 20% of the functionality of the software they have invested in.
Before you begin shopping for new software tools, consider these actions:
Understand the gaps. Whether those gaps are communication, meetings, collaboration, or something else, talk about what you need to improve. Once you understand what you need you can begin to look at your existing tools to see what is possible.
Explore your existing software. Spend some time looking at the features. Talk to an internal expert, or even do some online research.  You might be surprised what your existing tools can do.
Do some training. If you find your tools can help you, give people training to use the features that will improve your results. Consider both the technical training – which buttons to push when – and application training – when and how to use those features to get the results you want.
Look at work processes. The problem might not be software related at all. If your meetings are ineffective, it might have little to do with your platform itself.  After all, were your meetings perfect (or even good) in person?
Update expectations. Setting clearer expectations across the team as well as between individuals and their leaders might be the most valuable thing you could do. When will we use which tools for which purposes?  Using the wrong tool for a job isn't the fault of the software. Have you agreed on the situations when you will use email, vs chat, vs. picking up the phone?
Look at your culture. There are a hundred things about the way you do things in your organization that might be a source of your challenges – and a different software tool, probably won't solve that problem.
Software tools and platforms have transformed our organizations and truly facilitated greater organizational productivity and the possibility of widespread remote work.  It is certainly possible that your team or organization might need a new app or software application to meet a pressing need.  If so, the sooner you invest in the tools and needed training, the better.  But for the sake of your sanity and bottom line, don't start with the search for the new software – start with the suggestions above.  Because new software might not be the solution to your challenges.
…
The future of work is changing – including the types of tools and the ways we will use them. Want to keep tabs on what is happening as we move into the future of work? Want to be equipped with ideas and actions to help you succeed as the world of work changes? Subscribe to our free weekly Future of Work newsletter today!