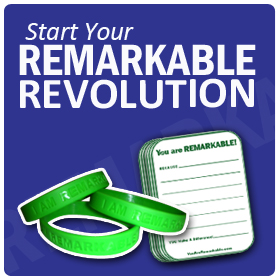 Yes, I wrote a book called Remarkable Leadership and yes, Remarkable is a part of our branding.   But the product I am excited to tell you about wasn't created because I am building a brand.  It was created because of what we believe.
If you go to any page on our website, you will find this quotation – it is something I wrote and it informs both all of our work and what I am about to describe to you.
Extraordinary potential exists in all of us.  With the right environment, resources, skills and knowledge, 'ordinary' people can produce extraordinary results.
This product and this idea is about creating and maintaining the right environment to support and encourage people to reach their potential and do extraordinary (remarkable) things.
So what is the idea?
People, even those who say they don't, need appreciation, positive reinforcement, encouragement and feedback.  Even the most self confident person benefits from these perspectives, affirmations and reminders from others.
And while much has been written about this (and more will be written here in the future), we wanted to create some simple tools to facilitate and remind us to look for, find and share the best in others.
We want to help you create a Remarkable Revolution using wristbands, Remarkable Reminder pads, and the belief in the idea that it isn't just the right thing to help people see their potential, but it is the profitable and productive thing to do too.  I could say more here, but it is all said on this site.
A simple and powerful idea – with easy and fun ways to implement it.
Look at the idea, look at the tools and join us.   We as leaders and individual can make a bigger difference in our lives and organizations when affirm, show and share with people how remarkable they really are.
Join me, would you?
You really are Remarkable!