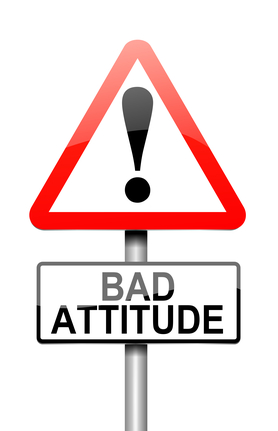 I wish I had a dime for every time I have experienced this story . . .
I've just finished giving a workshop or a keynote, and someone walks up to me with a question. It is seldom a question asked in front of the group, but rather separately on the side, alone.
"I've got this problem with one of my employees. They have a bad attitude, and I don't know how to help them change it. What would you do?"
The question is earnest, just misguided. And my answer always starts with a question.
"What are they actually doing, what is their behavior?"
To which I sometimes get a blank stare, or some fumbling for words. After they have struggled for a minute I ask, "What are they doing that leads you to infer that they have a bad attitude? In other words how can you tell or how do you 'know'?"
I'm asking these questions to help people see the truth. You can't coach attitude, but you can coach behaviors.
What do I mean?
If you tell someone in a coaching or feedback situation that they have a bad attitude you will encounter immediate defensiveness, and most often disbelief. And when you experience those things, how successful will the feedback be?
Not so great, right?
Generally speaking, people don't think they have a bad attitude (and even if they do, they believe they have ample justification for it anyway). And to make matters worse, even if people would be open to and agree with you on your assessment of their behavior, they still don't know what to do about it.
Attitude isn't an observable behavior itself, so people must know what they are doing so they can change. So, the relevant question if you want to help someone improve their behavior is what are the behaviors that aren't working?
Are people frowning all the time? Are they speaking poorly about others? Are they responding to all positive ideas with cynicism? These are (just) three examples of observable behaviors that can be coached to – and if these behaviors change, would you infer and believe that their attitude has changed for the better?
The chances are good that you would.
So if we can't coach attitude, but we can coach to behaviors; where does that leave you if you have a person or team with "a bad attitude"?
Focus on behaviors
Share with the other person your observations about the behaviors that are concerning you. Describe the behaviors as observations, not judgments, as a way to clearly describe them and to keep the barriers to the reception of the ideas as high as possible.
Describe the impact of the behaviors
There is some problem or problems caused by the "bad attitude", right? Once we have framed it in terms of behaviors, people need to know how those behaviors are negatively impacting others. Let them know how their behavior is impacting the work, the results, their success and their relationships. Creating this clear impact will help people see and feel a need to change those behaviors.
Create a clear set of behavioral expectations
Given this conversation, now create a clear picture of what the successful behaviors are and how those behaviors will change their results. The more the other person is involved in it the better. After all, it is their behavior after all.
Build a plan for improvement
All of the rest is of little value if there isn't a plan for changing their behaviors. Help them create a plan and determine how you, as their coach, can encourage and support the plan's success.
Can attitude get in the way of people's success? Of course it can, which is why I am asked about it so frequently.
Can we help people change their attitude? Yes, but not directly. We coach the behaviors that lead to the changed (and the perception of the changed) attitude.