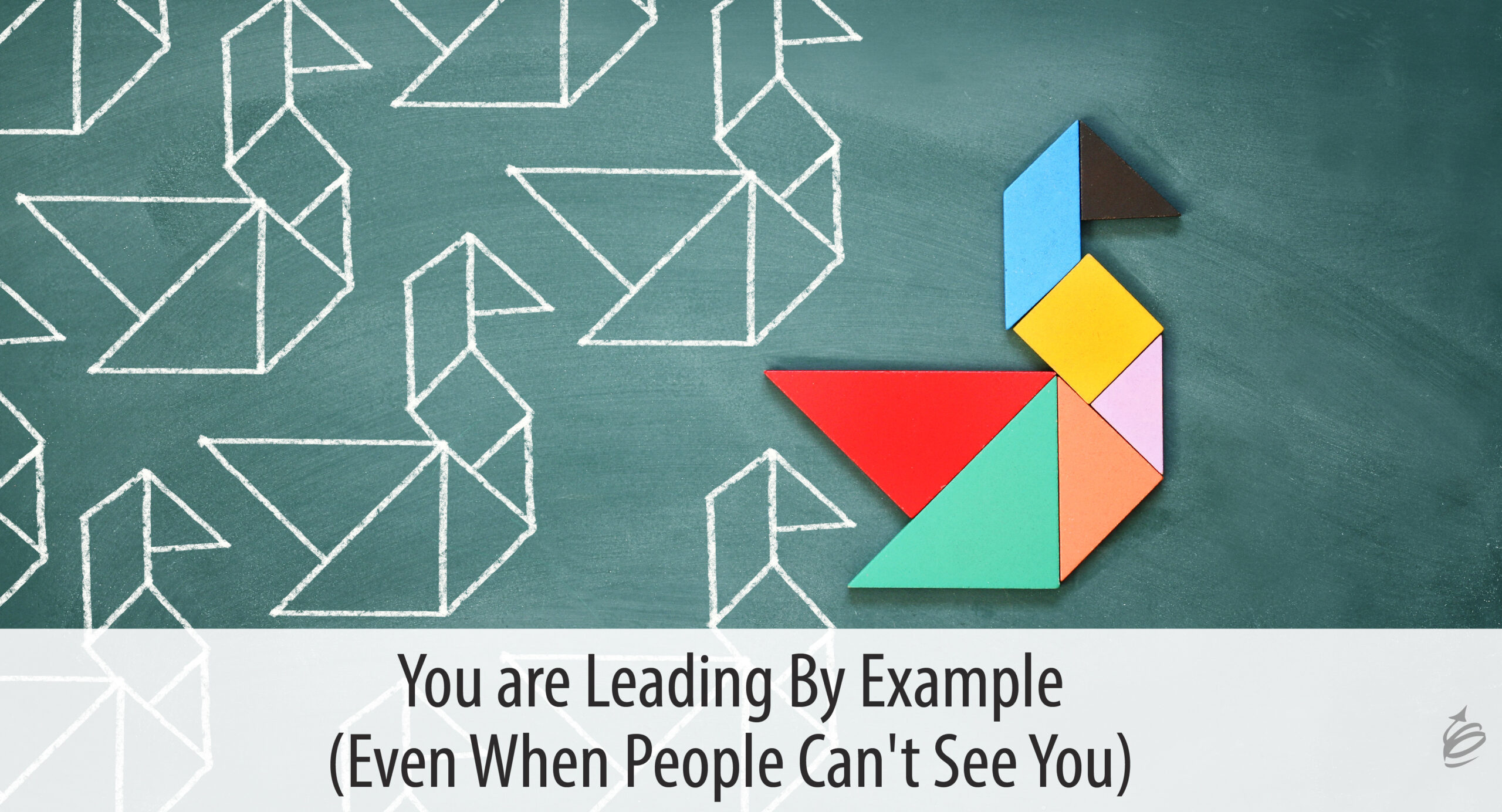 You have more influence than you realize. That is true for all of us – but for leaders it is doubly true. Many leaders have underestimated the power of their example as they worked remotely from many or all of their team. The truth is, you are leading by example, all the time. Perhaps you haven't thought about it, or realized just how important your example is …
I have asked hundreds of groups of leaders to share the traits of the most effective leaders they have experienced or observed.  On every list I can remember the trait "role model" is included.  While I generally agree with their assessment there is an additional comment that must be included:
It would be more accurate if the qualifier good was added (i.e. "good role model"), because every leader is a role model.  People are observing, paying attention to, and listening to the leader and then deciding from those actions what is important, valuable, appropriate, expected and allowed.
Let me say it more clearly: every leader is leading by example.
The question is: are you modelling the behaviors, thinking and approaches you want them to follow?
If you strive to be a more effective leader, this fact should both scare and excite you.  Scare you because they are watching you all the time – not just on your best days, and not just when you are thinking about how you are responding.  (I've written about this before, calling it your leadership walk).  But it should excite you too leading by example can be a powerful way to improve the approaches and results of others.
Lest you think this is less true with you are leading at a distance in a remote or hybrid environment, think again – they are still watching and paying attention, even if they can't see you.
Let me give you some very specific examples:
If you want your team to be proactive, how proactive are you?
If you want your team to be less cynical and negative, how can you infuse positive thinking into conversations?
If you want there to be less emails and more conversations, send fewer emails.
If you want people to make decisions, stop responding to all their questions with an immediate answer.
In these four simple (but important) examples, you see that people don't have to be in the same office space with you to be influenced by your approaches and behavior.  You are teaching people how to work with you and what is important in your organization everyday as they interact with you.
Part of the mantle of responsibility that you gain the day you accept your first role as a leader is that people will be watching you more closely than ever.  Consciously or not, they are learning what matters, what the priorities are, and how to succeed in the organization by watching you.
I agree with all my participants who say that the best leaders are good (or great) role models.  But they are great role models because they realize the importance of their example and work consciously to provide a valuable one. That single attribute forces those leaders to be aware, conscious, and willing to continue to improve. Because they know that as they improve, so will their teams.
….
Do you want a clearer picture on how you are leading? Would you like ideas for setting a better example and leading more effectively? If so, the From Manager to Remarkable Leader learning experience is for you. When you join me virtually, you become part of a small group of leaders who, like you, want to learn and apply cutting-edge ideas grounded in and connected to timeless principles. This six-session, virtually delivered learning experience is packed with insights and opportunities to learn from me and your peers. There is one more session scheduled this year, starting October 7. Learn more and get registered here.
If you are looking for an ultra low-risk way to test and see if this workshop is a fit for your organization, check this out to see if you qualify.