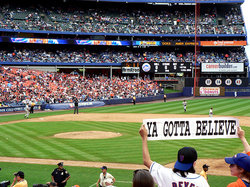 During an unlikely 1973 comeback from last place to first place in the final month of the season, a New York Mets pitcher was credited with the phrase that became the rallying cry of the team and city – "ya gotta believe!"  That phrase was widely credited with helping the team go 20-8 to finish the season in incredible fashion.
Let me ask you this. . .
Does it matter if others believe in you?
Does it make any difference in your performance?
Your experience and plenty of research shows that it does.
Belief, it turns out, is a really big deal.
In 1912 George Bernard Shaw wrote a play called Pygmalion, later adapted and more popular today as the musical and movie My Fair Lady, where a professor, on a bet, takes an uncultured young lady and helps her be seen as an aristocratic young woman.  The story shows the power of Professor Higgins' belief in the young Eliza.
In 1968 social scientists Robert Rosenthal and Lenore Jacobson reported on research for what they call the Pygmalion effect.  In their research it is shown that when higher expectations are placed on people, they perform better.  In other words, when we see greater potential, and believe in others at higher levels, it positively impacts their performance.
As it turns out, the opposite is true too – if expectations and belief are lower, the performance of others tends to be reduced as well.
I could cite more research and give more examples, but deep down you know this is true.  Think about how your performance changes based on the belief of those around you.  When expectations are raised we tend to work a little harder, we tend to stretch a little more – we tend to live up to those expectations, don't we?
And your answer here is only at the conscious level – there is actually a good bit more that is going on at the subconscious level as well.
Since you are likely reading this as a leader, let me put all of this into a very blunt perspective.
The Bottom Line
As a leader you want and need the people in your team and on your organization to perform at their best.  Their best performance is in the best interests of you and your organization, as well as the best interests of the individual, and hopefully your Customers.  When you put that fact together with what I have just shared above, you can't avoid this fact.
If you don't believe in your people, you shouldn't be leading or coaching them.
To lead or coach someone who you don't believe can succeed, that you don't believe has the capacity to excel, precludes you from helping them achieve at anywhere near their highest potential.
Your Two Choices
This leaves you with two basic choices if you want higher levels of performance – find a reason to believe, or find someone else to coach them.
And if you are a manager in the middle of an organization, the second option might not, especially in the short term, be a viable option . . . so, let's talk about how to find something to believe in.
Start with their strengths.  Look for the things that people do exceptionally well.  When you begin to notice people's strengths you will be begin to see them more clearly.  Remember too that people's biggest weaknesses (as we see them) are often closely tied to strengths.  Which are you looking at and focusing on?
Think about potential.  When you really believe in someone, you recognize their current shortcomings but focus on their potential.  When you are down on someone, you do the opposite.  Both are a choice that you make. If you want to help people grow, focus on their potential.
Share what you see.  Once you see their potential and reasons to believe in them, let the other person know. Let them see what you are seeing.  While our belief in them matters, so does their belief in themselves.  Share what you see and help them see it too.  Encourage them and give them a bigger picture of what they can achieve.
When you do these things, you put the Pygmalion effect to work in a positive way; and everyone wins.
While none of this effort guarantees that the other person will grow and their performance will increase, it is the best thing you can do to influence the choices and efforts that they make.
In the end, if you want to lead and coach others successfully, ya gotta believe.