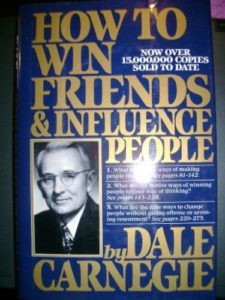 I first read Dale Carnegie's classic How to Win Friends and Influence People 30 years ago.   While that may seem like a long time ago to you, the book was already old then – it was written in the 1930's.  I read it again a few years later. I read it again, when was working on Remarkable Leadership.
Why?
Because I looked to it to share one particular story, and while it was in my hands I ended up reading most of it again – it is that readable and useful.
I'm clearly not the only person that thinks it is good. According to sources I've read, 30 million copies have been purchased (and as I looked it up this morning it is in the top 250 books selling on Amazon today  – over 70 years after the original publication).
In the past, at least a couple of times the book has been revised, largely changing some language to make it more readable in the current vernacular – but not changing it drastically by any means.  It is still clearly a book written in a different time.
Apparently because of this, Dale Carnegie and Associates, Inc. has decided it needs to be more than re-written.  They have announced (which I read in this New York Times piece this morning) a new book, called How to Win Friends and Influence People in a Digital Age (Amazon link here).
The New York Times doesn't have much good to say about it, nor does the initial Amazon reviewer.  I haven't, and likely won't read it, because the project was ill-conceived from the start.
While it is true that the context of our times have changed since Carnegie penned the words in the book – he had no idea of the technologies we live in today, the nature of a global economy, and anything related to the "Digital Age."  The point of the book is about the title – winning friend and influencing people.
Have people fundamentally changed in 70+ years?
No.
We have the same fears, desires, and wants.  We crave appreciation (see this recent post), want to be recognized and heard.  We can make a long list of human wants and needs, and they haven't changed because we have a Twitter app for our Ipads.
People haven't changed, and while context changes, the best advice from more contemporary books echoes the principles Carnegie writes about so well (There are many of these and they are quite good – you likely have heard of some, and/or have one or more on your shelf).
We don't need a revised edition of Romeo and Juliet, a Tale of Two Cities, or Moby Dick.  Consider "To Kill a Mockingbird in a Digital Age".
Unnecessary.
And we don't need a new version of How to Win Friends and Influence People.
Do yourself a favor, buy a copy of the original (it is outselling the new one, so far, by the way).
Read it.
Apply it.
And you (and those you interact with and lead) will benefit.