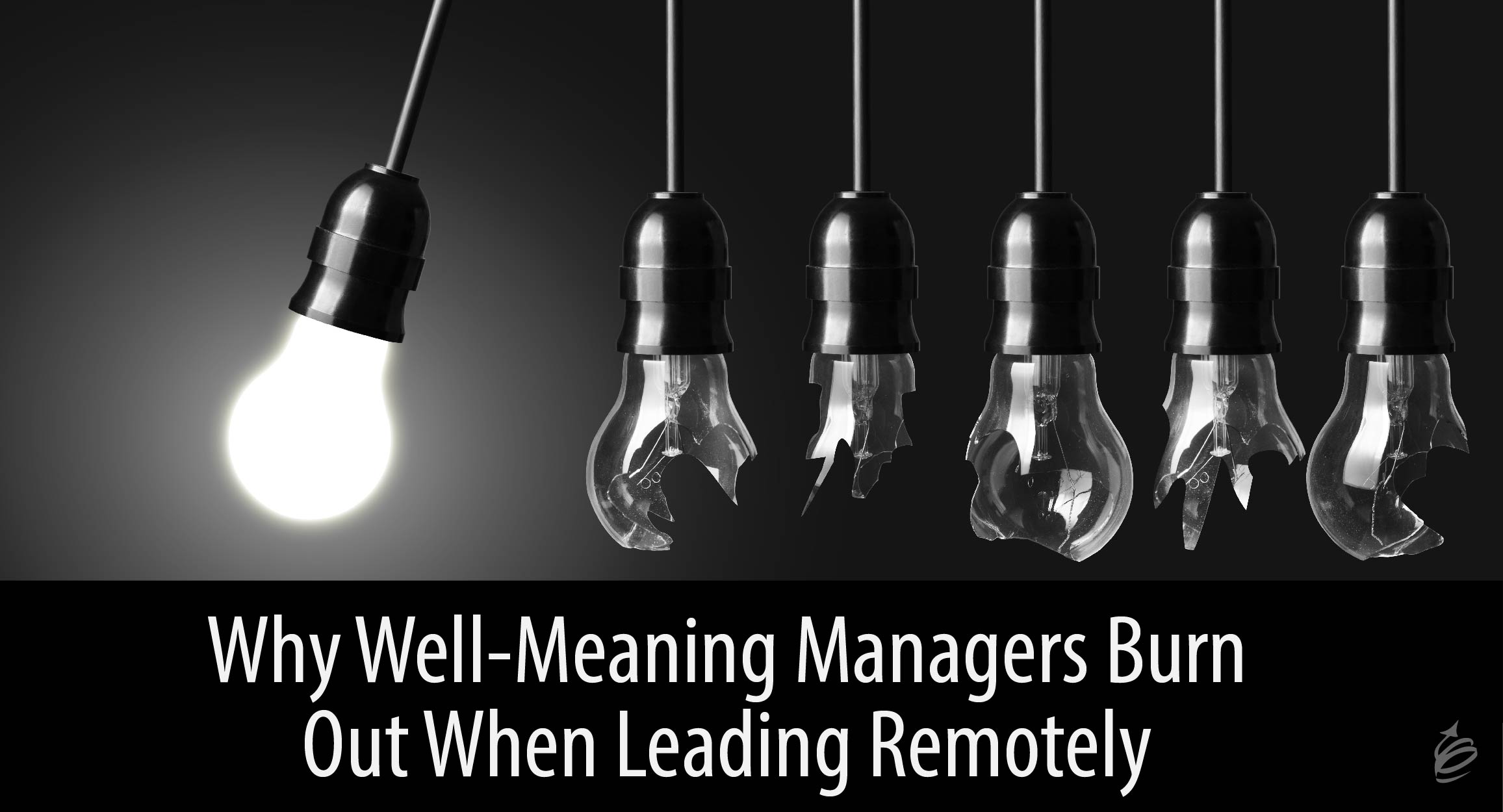 There are many leaders and managers who want to do good work and serve their teams and organizations well. They are well-meaning and hardworking, but too often they burn out – for both organizational and personal reasons. While this has always happened, it is happening far more often now as managers lead remotely. The stressors and factors that caused burn out in the past are more prevalent and potentially more toxic now in a remote work organization.
In this article, I will share some reasons why this is happening, and give you ways to avoid or overcome those factors.
Remote Leaders Don't Set Clear Boundaries
Leaders have always had boundaries to set; but with a remote team there are more of them. When people might be working from anywhere, gone are set office hours. With all our files in the cloud, gone is work that stays at the office.  With most of that same work accessible from our phones, gone is any excuse to not be available.
The well-meaning remote leader wants to support their team by being available, helping and answering questions, but to ultimately be helpful they must set boundaries for when and how they will be working; how and when people should reach out, and when they can expect responses.  Without agreements on these issues, the work will never stop.
Remote Leaders Don't Do Time Differences Well
To further complicate the previous point; if the leader has team members spread across part or all the world, the pressure to support team members who are working when the leader is sleeping is huge.
Yes, remote leaders may need to communicate with team members in far different time zones than themselves.  This fact should prompt a conversation between the leader and those team members, because the stressors on the leader may be shared with those far flung team members too.  Everyone needs to rest, live the rest of their lives (and sleep).  The answer is to talk about what will work for everyone, and then stick to that plan.
Remote Leaders Don't Set Clear Expectations
Clear expectations are a cornerstone of effective leadership, and as team members leave the same location as their boss they become even more important. When expectations aren't super clear, but people see each other often during the day, both have a better chance to adjust and stay on track. When working remotely, communication is more planned, infrequent and formal so these opportunities don't exist, and assumptions become an even bigger problem.
Regardless of people's work locations, there are need to be clear expectations about the quality of the work product and processes and procedures required.  What becomes even more true for remote team members are expectations of how work will be done, when and how people will communicate and matters like these.
Remote Leaders Use Technology Poorly
Once team members leave the nest of the office, technology becomes the medium for communication and getting work done.  These technologies include phones and email, but extend to instant messaging, web conferencing, file sharing and other technologies. Unless the leader learns how to use these effectively and for the right purposes, they will work harder (and longer) to achieve what technology might have effectively mediated.
Remote leaders must use technology well and know which technologies to use for different situations if they want to be more effective. Used well, the tools available to the team can help work get done more effectively, and communication to be more effective.  If the leader doesn't lead in these areas, productivity will suffer and stress and frustration will grow for everyone.
Remote Leaders Don't Delegate
Ok, lots of leader with teams down the hall don't delegate either, but when leaders don't see others they are more likely to just "do it myself."
When leaders share responsibilities and provide opportunities to grow (the real best reasons to delegate) with remote team members, they further engage those team members, help them see their worth and contribution, and improve the chances they will remain a part of the team.  AND, when the leader delegates effectively, they lower their stress and take some work from their plate.  Done well, this is a win for the team member, the leader and the entire organization.
Remote Leaders Don't Shut Down
This is the culmination of all the rest.  The well-meaning leader tries to overcome the deficiencies in the rest of these points with more time and effort. Not only does that create stress, burnout and turnover for the leader, but it impacts the entire team in a negative way as well.  If this is you, re-read the second paragraph in each section above for some tangible ideas to reduce your stress and increase your results.
If you are thinking that all of these could be true of any leader, you would be right.  The point here is that if you are leading remotely you are more likely do one or more of these things – and if you do the burn out could come faster and hotter.
If you want to learn more about leading your remote team more effectively, check out our new book The Long-Distance Leader: Rules for Remarkable Remote Leadership. You can order a copy and get special bonuses, or download a sample chapter here.