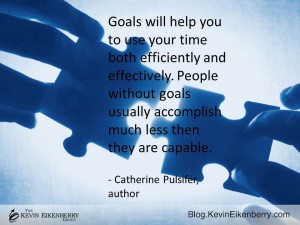 Yesterday and today I have been working with an organization, and part of the work has been to talk about goals, goal setting, and goal achievement. Perhaps because of my current focus, this quotation seemed valuable.  The reality is that it is profoundly true and it urges us all to set goals.
Questions to Ponder
 – Do you have goals?
 – If so, why?
 – If not, why not?
 – In your experience, do goals help you accomplish more?
Action Steps
 1.  If you have (written) goals, review them today, and take at least one small action towards them.
 2. If you don't have (written) goals, write one today.
My Thoughts
There are lots of good reasons to have goals.  None are any more important than the one today's quotation points out. Most people would like to be more effective and efficient with their time, and goals will help you with that. Famously, Zig Ziglar used to ask people what day they got the most done.  His answer?  The day before you go on vacation, because you have a clear goal and deadline, and you get a ton accomplished!
His point is well-taken. Having goals, whether they are five-year goals, annual goals, or goals for the week or day, drives our focus and discipline.
You can read and think about today's quotation at a micro level – goals for the day or the meeting, or at the macro lifetime level.  However you choose to read it, the point is important.
Your capacity and potential is nearly boundless, and goals are a key ingredient to you achieving even part of that potential.