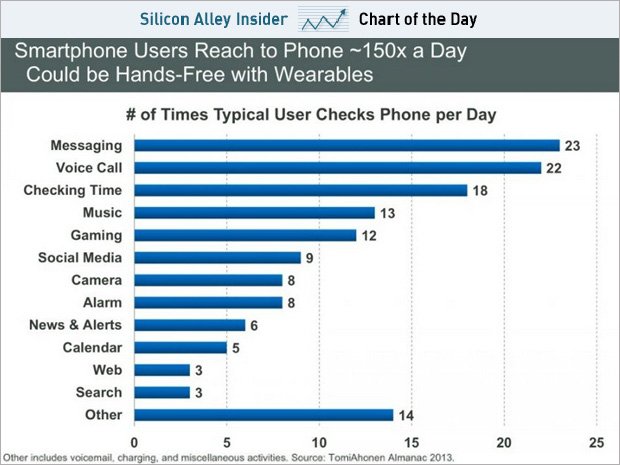 One of the sites I read regularly is Business Insider. Recently they posted an image showing how often the average person looks at their cell phone each day. You can see that image here. Their post was about an entirely different topic than you are about to read about – and with all due respect, I believe this message is far more important to you.
Let me do the math for you on this graphic – the average smartphone user looks at their phone 143 times per day. Let's say that the average person has eight hours where looking at the phone isn't an option (sleeping and bathing). That means the average person is looking at their phone almost 9 times an hour – about every 6.7 minutes. I would like to have taken more hours out of consideration, but considering that some people look at their phones while driving, eating, and using the restroom, I didn't think I could.
Let me say it again – the average person looks at their smartphone 9 times an hour. Perhaps you are below average. If that is true, this message may not be (quite) as applicable to you. But you might be above the average too.
Productivity research tells us that we don't actually multi-task, but that we switch tasks – our brains move from one task to the other and back and forth quickly – so quickly we "think" we are doing two things at once. This research further tells us that when we are switching tasks, we are actually doing both tasks at about 70% of our capacity.
Other research says driving while texting impairs us in the same way as alcohol does. Research at the University of Utah in 2009 found that talking while driving on the phone – even if hands-free – reduces the drivers reaction time as much as having a blood-alcohol level at the legal limit of .08% – wouldn't you think texting would be worse?
So here is the deal – we are all busier at work than ever. The demands and expectations for productivity are at an all-time high. But let's look at this average smartphone user for a minute.
Every hour they interrupt what they are doing to look at their phone multiple times (admittedly it might not be nine times an hour, as the usage might be higher at home or during leisure activities). And every time we stop and "check our phone", we are switching our brain from the task it was on to a different one, causing us to lower our effectiveness on the initial task.
The phone that is supposed to help our productivity, is hurting it more than it is helping.
Am I saying we shouldn't carry smartphones? No, not at all. What I am saying is we should think about how we use it, and make sure that that usage is serving us, rather than enslaving us.
From a Leader's Perspective
As a leader this point is doubly important. How we use our phones is being watched (and emulated) by others. If our habits hurt productivity, it affects far more than ourselves. Here are four specific things I suggest you try (some I do currently, and some I am going to implement on my team).
Talk about the issue with others. Get your team to be aware of the challenges and engage them in coming up with solutions.
Create more productivity-friendly habits with your phone. Cut down on the times you look at it – and consider setting a number of times per hour you will look at it at work (unless answering the phone perhaps).
At work, put it out of reach. The habit of looking at it (and then, for example replying to texts immediately) reinforces the need to keep doing it – and when it is close by, when you see it, you are more likely to look at it.
No phones in meetings. Everywhere I go, people talk about how people are on their phones in meetings. It is hard to be engaged in the meeting when on your phone – and the expense of a meeting skyrockets if people aren't even engaged while they are there. If people can't be disciplined themselves, find a way to help them.
Our phones are amazing tools – when used correctly. Hopefully this article will challenge you to think about how you use yours, and how to use it more productively.
Now put down your (darn) phone and get something (important) done.