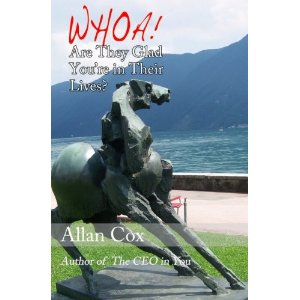 This is a book that defies categorization.
Is it a book of tweets?
Sort of – there are 365 short snippets of encouragement, admonishment, support and idea generation.
Is it a devotional?
Kinda – you could read one snippet each day as a part of your reflection and learning.
It is a picture book?
Yes – because there are 52 pictures, one following each seven snippets. (it is even available in black and white or a beautiful color edition).
It is a poetry book?
At least a little, because there is poetry that follows each photograph.
Is it a personal development book?
In a way – in fact this is where the book will be slotted, but because is also all of these other things it is different.
Written by a very smart and accomplished guy (who has, among other things, had one of his quotations printed on millions of Starbuck's cups), this book is valuable for you and as a gift for others.  Anyone drawn to any of the partial descriptions above will like it – if you are drawn to all of them you are likely already ready to order!
Let me give you one more reason to order.  To celebrate the release of the book (officially Tuesday, but orders can be placed today), the author has put together a bundle of special offers to encourage you to buy copies now (including a bonus recording from me on being a remarkable listener).  You can get all the details on this offer and learn far more about the book here.  And preview the bundle of free resources you get when you make your purchase here. (To order directly from Amazon, go here.)