About 15 years ago, I started sending emails each weekday to a few colleagues and Customers. I called them Powerquotes, and they were simple – a quotation and some questions to ponder. I did that for many years – at the peak sending over 20,000 emails per day to those that asked for them. That was the genesis of what is now this weekly blog post of a quotation, some questions to ponder, some action steps, and a bit of commentary.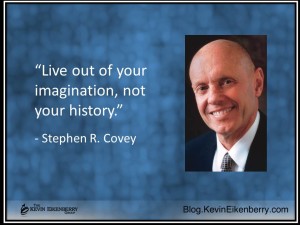 (By the way, you can still get an email each Friday reminding you of and pointing you to this weekly post. If you want that, send an email here and we will get you added).
One thing I have learned from collecting, pondering, and sharing quotations is that often the best are stated in few words. Today's is no exception.
Questions to Ponder
– Where are you living?
– Where is your focus?
– What does your imagination tell you , if you will listen to it?
Action Steps
1. Spend time today listening to your imagination paint a picture of your desired future.
2. Capture that picture on paper.
3.  Review it daily – this review will help you live in your imagination, not your history.
My Thoughts
With a tip of the hat to one of my favorite movies, I often say in workshops that the only way you can change the past is if you own a DeLorean (with a flux capacitor). But since we live in the real world, not the movies, we can't change the past. Covey reminds us that if we can't change it, why live there?
What we can change is the future. What we can influence is the future. That means that while history is useful for context and learning, the future is where we are heading, and therefore, where we should focus our attention!
As achievers, as leaders, as human beings, we need to look forward towards our future – and when we "live in our imagination" as Covey suggests, we can be moving towards a future that we desire.  So let me close with this final question . . .
Are you thinking more about where you are going, or where you have been?