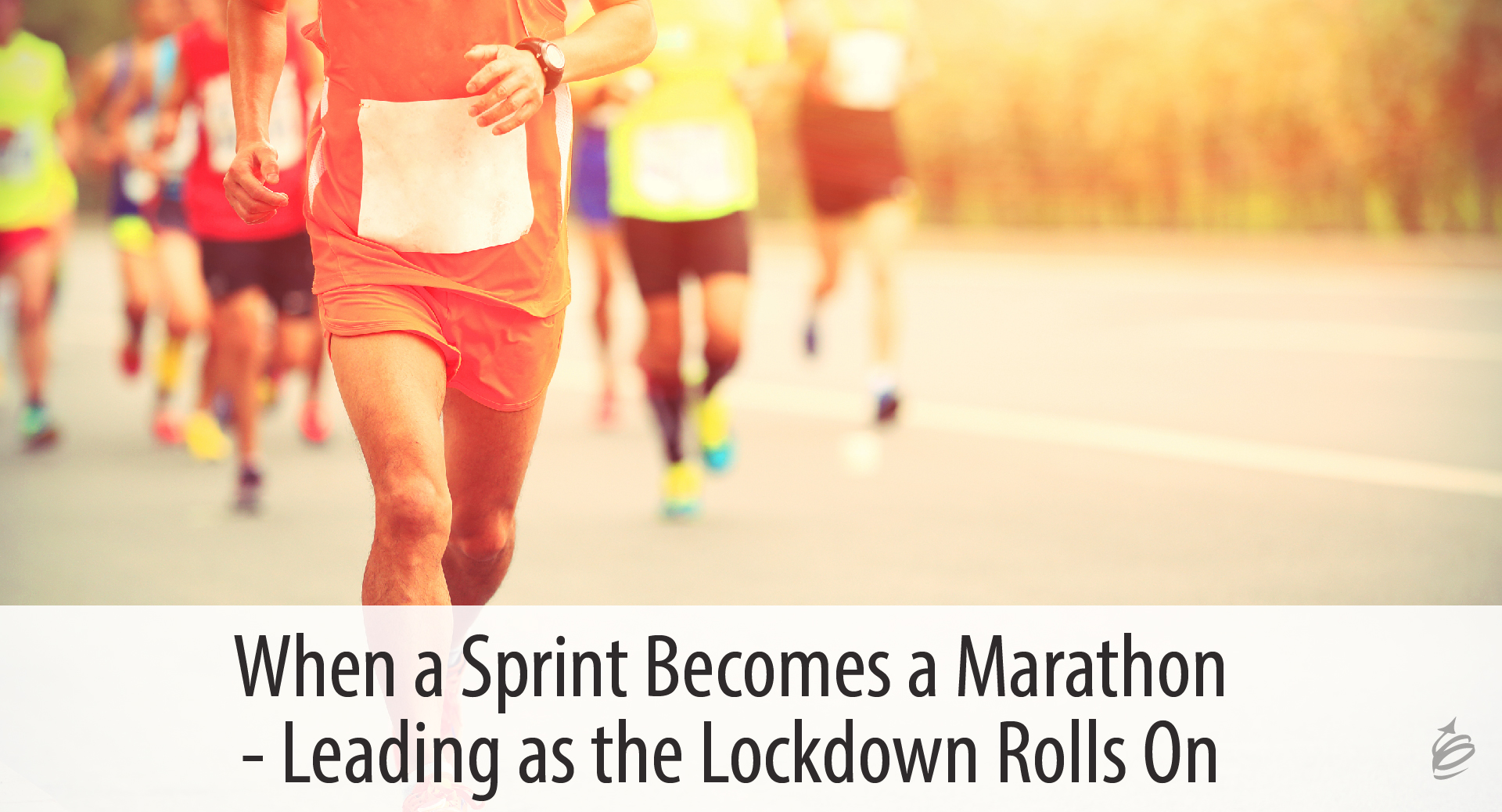 In the middle of March, your working world and the view from your "desk" may have changed drastically. Government officials (and perhaps your boss) decreed that the work would continue, but not in the office, and not closer than six feet apart. Suddenly, and nearly without warning, you were thrust into long-distance leadership.
While a jolt, and while hard, we can endure most anything for a short time. And chances are, your team did pretty well – maybe better than you or they expected. A few weeks in, you might have been thinking this long-distance leadership stuff – and remote work – might not be so bad after all.
Sprinting can't last forever, even if you have been training. And almost no one had trained for remote work. So, while we managed to sprint for a bit, now we can see we are in a marathon. And for many, we can't even see the finish line yet.
So how can we practice long distance leadership now – when we know we will be doing it longer? Here are some ideas to help you manage the marathon.
Run together
You can certainly train for a race alone.  And as a leader you may think that figuring out how to make remote work be successful falls on your shoulders. But you aren't running this race alone. While you have some leadership responsibilities that change when you team works remotely, remember that each person is running this race too. Engage your team in planning for and improving how you will all work more effectively.
Create a conversation about what is working now – and what isn't.  Ask, your team what they need both from you and each other.  By creating a conversation, you will have more complete idea of the race you are running and gain insight and ideas about what is needed and how you can continue to improve working conditions, communication and more.
Pace yourself
When we first sent everyone home to work, it was a full-on sprint. Everyone was focused on making things work and a tremendous amount of planning and work was accomplished in short time. People had to figure out IT infrastructure, get people the tools they needed and solve fifty unforeseen problems. And for the most part, organizations succeeded, and people did whatever it took to make things work.
While what many organizations accomplished in a few days (or a weekend) will long be remembered, you know you can't sprint forever. Whether you call it a new normal or just a longer pause, it is time to catch your breath. Give people a chance to destress and start addressing the cultural and interpersonal cracks that are showing. Adrenaline and necessity covered some of those cracks for a while, but now that the stresses are showing it is time to address them (rather than ignore and deny them).
Set new interim goals
It is possible that the pandemic and associated economic changes have altered your plans and strategies.  Step back now, in light of the current situation – both internally and externally – and decide what your new milestones and targets should be.  Some work is probably a higher priority than before, some projects may need to be placed on hold, and new ones may have emerged.  As a leader your role is critical here.  If you don't create the new strategies and priorities, people will keep work on the old list or make their own assumptions.
Keep the goals clear, even if they have changed.  As important as this is when you work together, the distance between people doesn't help you now.  Once the interim goals are set, communicate them often and consistently.
Check in with others
While I hope you engage the group, the marathon requires that each person gets more personal attention too. As a leader schedule more frequent one-on-ones with each team member.  Make sure you are supporting them so that they stay fresh and focused. Monitor and manage their stress and personal worry.  People can't perform even close to their personal best without ongoing care from you as their leader and coach.
While you are working hard to take care of others – make sure you take care of yourself too.  Others aren't the only ones who have been sprinting.
….
Almost exactly two years ago, our book The Long-Distance Leader: Rules for Remarkable Remote Leadership was released. Here is the post announcing the book. It is more relevant and useful now than the day it was published. If you don't have a copy, now is the time! Whether you want a paperback, a digital book for your device or an audio book, all are available. Buy it wherever you buy your books, or from Amazon.