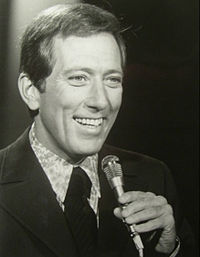 We had Andy Williams records at home when I was a kid. And since there weren't that many records, I knew the songs well.  I remember his Christmas specials and that oh-so-smooth voice.   This week, Andy Williams passed away, and today, I share a quotation from him with you.  While your circumstances are likely quite different than his, read his quotation and think about how you can apply it to your life and choices before you read on . . .
"I made up my mind several years ago that I had worked very hard to get to where I am in life and that I was only going to do things that are fun and exciting."
– Andy Williams, singer and entertainer
Questions to Ponder 
What is fun and exciting for you?
How much of your time do you spend doing things that aren't fun or exciting?
How would your life be different if you made the same decision Andy Williams made?
Action Steps
1.  Do something  today that you see as fun and exciting.
2.  Look for the fun or excitement in the tasks you already do.
3.  Consider this criteria for your decisions about the future.
My Thoughts
Andy Williams was a famous guy, who  likely had significant financial resources. If you read the quotation solely through that prism, it might be easy to think, "Sure, it is easy to do the fun and exciting if you don't have to worry about the mortgage."  Perhaps that is even the first thought you had. There is, no doubt, truth in that thought, but to dismiss the quotation on those grounds is to miss much wisdom in the quotation.
Let's take the quotation apart, piece by piece . . .
"I made up my mind several years ago" – Williams made a conscious decision about a criteria by which to guide his life's decisions. Do you have that kind of guidance system clearly articulated to help you make life's decisions, large and small?  Clearly, money isn't required for that.
"I had worked very hard to get to where I was in life" – If you just say, "I want only fun and excitement" without doing the work to prepare yourself for those options, it may be very difficult to make that happen. Good things and good options come from hard work.  Again, you don't need money or fame to work hard; in fact, hard work is nearly always a precursor to those things.
"[I decided] I was only going to do things that were fun and exciting." – This is what we  focus on in the quotation, and what I focused on in the Questions and Actions above, yet this piece alone could seem frivolous or pie-in-the-sky. Yes, it makes more sense with the first two parts of the statement, yet even standing alone, there is wisdom: we can improve ourselves, our results, our outlook, and even our health by putting more fun and excitement into our lives.
So the challenge is how to do it.
I see two options; make new choices to insert more fun and excitement into your life, and find more fun and excitement in your current tasks.  Both are choices you can make.  And you can help others do both as well. Read the quotation again, with fresh eyes, then go find some fun and excitement in your life, and in your work.