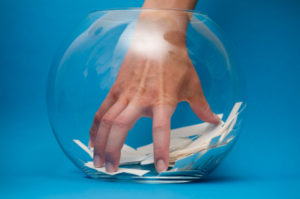 You've experienced it many times.  You are at the county fair, the community charity event, a local seminar or networking event.  You bought a ticket, filled out a form, or handed someone your business card.
And you know the rules.
You must be present to win.
If you wanted the items being drawn, you wanted to win.  And the rules made it clear.  If you aren't there, they will draw again.
If you aren't there, you can't win.
As leaders, we have a lot in common with the common raffle.
We, too, must be present to win.  I've written a lot about this in the past, from the viral Five Reasons Why Leaders Should Have a Closed Door Policy, to The Door is Just a Metaphor, to the more recent story about Charles Barkley and the lesson he taught me.
In every case, I am talking about the importance of being present.   While, I am not always in the office (I'm writing this from the Richmond Virginia Airport) and you might not be either; when you are there, you must be there.
Focused.
Caring.
Aware.
Observant.
Listening.
Present.
An old adage says that right now is a gift, that is why it is called the present.
When we are present with others, we are not only able to get better results, but we give them a precious gift.  To reach your goals, and help your team reach their collective goals, you must be present to win.
What will you do today to remind yourself of that?
(Thanks to Doug Sterbenz for sharing this analogy recently – and for inviting me to speak to his leaders at Westar Energy earlier this month.)