Achievers at the highest level have several things in common. Today, I want to talk about one of those traits, one that, when practiced as a leader, has a multiplier effect.
Let me start with some examples.
Stephen King has written 49 books – all of them bestsellers. Here is part of his secret to success – he writes 10 pages every day. Holidays, birthdays, Super Bowl Sunday – 10 pages.  Every day.
Jack Nicklaus, arguably the best golfer ever, never stroked the ball until he had seen the perfect shot in his head.  Then and only then would he pull the club back and swing. When you think about how many shots he took, that is quite amazing.  As my Dad used to say, "Never is a long time."
Dan Kennedy, one the highest paid advertising copywriters ever, and a marketing mentor of mine, doesn't go to sleep each night without completing one task that connects him with a Customer, forwards him closer to a new contract, or in some other way moves him closer to a new sale or a more solid relationship with an existing Customer.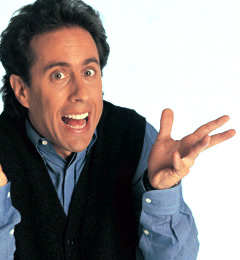 And according to Forbes magazine, comedian Jerry Seinfeld made $267 million in 1998 and 10 years later, he was still bringing in $85 million. When asked in an interview about the secret to his success, Seinfeld said the way to be a better comic was to create better jokes and the way to create better jokes was to write every day. And for every day that he writes, he puts a big red X on that day on his wall calendar. After a few days, he has "a chain" and all that matters is not breaking this chain.
Do you see the commonality?
Consistency.
Perhaps you are thinking that these behaviors border on obsessive, some might call them anal-retentive. If you are thinking these things, remember this:  The best performers do things that average performers don't or won't do.
The best in any field are consistent in their efforts – and the same goes for us as leaders.  The best leaders show up and deliver day after day after day. While people love to have a leader who is consistent in their behaviors – so people know what expect, I am talking about more than that here.
Let's look back at our four examples. King is focused on finished books, and you can't get there without writing. Nicklaus is focused on winning golf tournaments, and he has learned that visualization helps him get there more frequently. Kennedy knows his business is all about finding and keeping Customers. And Seinfeld knows the best way to be a better comic is to have better material. And the best way to have better material is to have more material to choose from.
Fortune went so far in their interview with Seinfeld as to name this "the Seinfeld Strategy."
So if you want to apply this secret of great achievers, the so-called "Seinfeld Strategy", you must first know the single most important thing in your business or work. Once you have determined that, get to work on moving towards that every day, with the clockwork of our examples.
Are you crystal clear on the most important action you should be taking every day?
And once you are, what do you have in place to hold yourself accountable for that action?
And here is the multiplier effect I hinted at earlier. When your team knows what your most important action is, and they can see you doing it, they are much more likely to do it themselves.
Imagine a team of people all consistently doing your equivalent of writing ten pages everyday – even when there is crisis, even when they are busy. How would that change your organizational results?
Those are the kinds of results great leaders achieve with their teams.
And it starts with consistently doing the most important actions.
Every day.