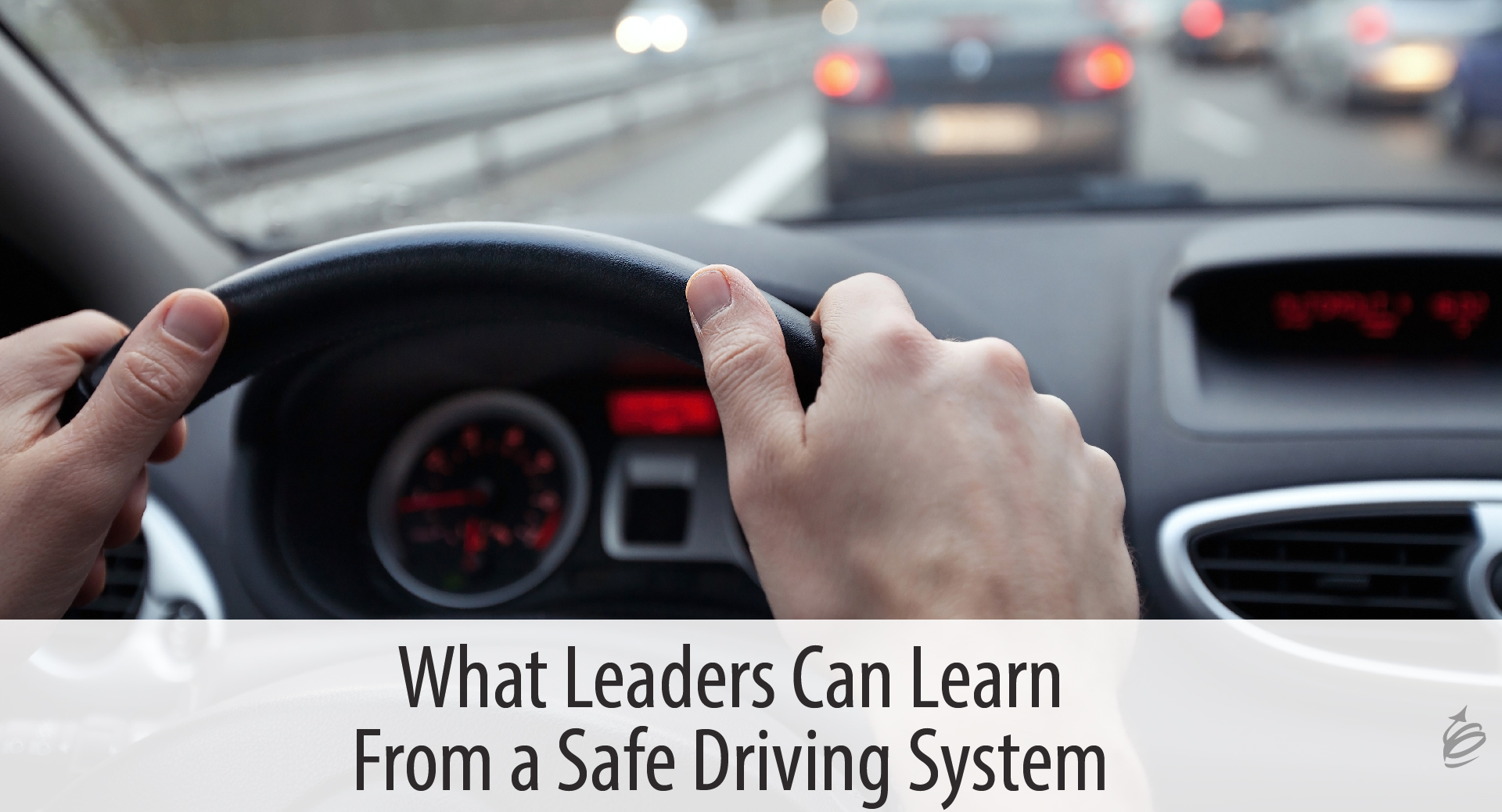 Recently, I was reminded of the Smith System – a safe driving methodology designed to reduce the chance of major accidents. I was taught this system before I received my company car, and I still remember the five key ideas. In reviewing that list – from memory – 35+ years later, I realized those same points could help us be better leaders. What if we had a leadership system that helped guide us to better results?
Perhaps another day I will develop a specific set of ideas for your leadership system. But for today, let's borrow the five ideas from the Smith System and apply each of them to our role as a leader.
Aim high
The first rule of the Smith System is to aim high.  Since our eyes are designed for walking, not driving speeds, we need to look further ahead to anticipate and react to hazards.  Just like drivers shouldn't look at the end of their hoods, leaders must be looking into the future.  By keeping your eyes on your vision and desired destination you are better able to stay focused on that destination, while noticing obstacles that lie between you and that destination that might cause problems or delays.  Make sure you aim high and stay focused on your destination.
Look at the big picture
While you are looking 15 seconds ahead, the Smith System says you should be scanning around you and behind you as well – checking at least one of your mirrors every 5-8 seconds.  As a leader you must be consistently aware of what is going on around you as you lead towards your desired destination. Make sure you are doing what you must to be aware of your organizational culture, economic conditions, the situations of your internal and external customers and more. Desire and focus alone won't get you to your destination.  A keen sense of your surroundings and environment are needed for you to help our team navigate to your desired success.
Keep your eyes moving
Focus is good, until it isn't. the Smith System teaches that staring at any object for too long creates a trance-like state. The best leaders know their destination and see the big picture, but don't develop tunnel vision. While the desired destination may not change, the route to get their may need to.  By keeping your eyes moving you remain alert to unexpected situations and opportunities.  After all, too much focus on one approach blinds you to new options and alternatives.
Leave yourself an out
A cushion of space around your car allows you to better adjust and avoid a hazard.  Imagine leading like a driver who is always on the rear bumper of the car in front of them.  Their sense of urgency, translated to leadership might be admirable, but the approach can be disastrous.  "Leaving yourself an out" gives you flexibility and the chance to adjust while moving forward.  As a leader creating a team that is agile and flexible will allow for greater adaptability and maintain speed of execution.
Make sure they see you
The final principle of the Smith System is to make sure other drivers see you. As you might expect this involves trying to make eye contact as well as using your blinkers and horn.  As a leader you must be visible. Leadership isn't about making yourself the center of attention, but being available, supportive, and willing to help.  Accessibility and visibility are important traits for leaders to develop if they want their teams to reach their desired destinations safely and efficiently.
Having a a safe driving system can help you get to your destination more consistently and safely.  As a leader we want those same things – to predictably reach our desired destinations with our team intact, safe, and ready for the next leg of their work journey.  Hopefully, these ideas can help you build a leadership system that will help you lead more effectively every day.
…
I learned how to use the Smith System from training and ongoing coaching. Perhaps you have had leadership training, but would you be more successful in applying the principles you learned if you had a coach?  Are you looking for coaching resources in your organization? If so, perhaps we can help. We have a cadre of leadership coaches selected and trained by me that might meet your need. Send us an email and we will schedule an exploratory, no obligation consultation to see how we might help you get the coaching you need, to get the results you desire.