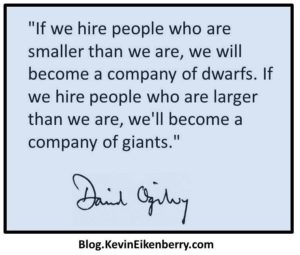 David Ogilvy is perhaps the most famous advertising executive of all time. His book, Ogilvy on Advertising, is a classic, and many of his ads have been often copied. Today's quotation from him tells us his genius went far beyond writing an advertisement (and perhaps gives a big clue as to why he was so successful).  Read the quotation to the right then participate with the questions and actions below.
Questions to Ponder
– Who do I want to hire?
– Who do I hire?
– What is keeping you from hiring giants?
Actions to Consider
1. Determine a wishlist of your perfect employee.
2. Search for that person.
3. Hire them.
4. Help them soar.
My Thoughts
No one will disagree with this idea publicly. Yet many, in that quiet place when they are alone, know that they don't want to, and won't hire people better than they are. Why?  The list of reasons is long, but mostly they come down to self image, confidence, and having a personal issue overshadow the organizational goal.
If you agree with this quotation privately, I applaud you.
If you act based on that belief, you will build something outstanding – whether it is a neighborhood watch, a group in your church, as a middle manager, or as the owner of a business. Make it your goal to create a "company of giants."  Your team members will benefit, your Customers will benefit, and so will you. Let go of your self for a minute, and watch the results flow to you – faster than you ever believed possible.