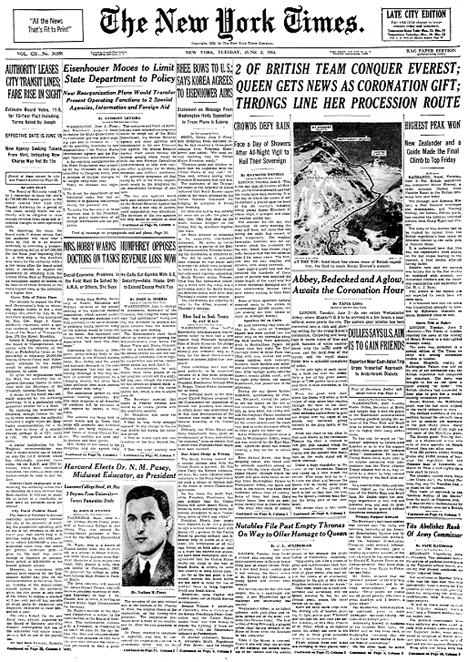 57 years ago today Mount Everest was conquered as Edmund Hillary of New Zealand and sherpa Tenzing Norgay of Nepal.  They were the first two people to reach the summit of the world's tallest mountain.   (Here is the New York Times story from the image to the right.)
You may not aspire to climbing a mountain.  You may never become world famous, or the answer to a World History (or Jeopardy) test question.  But the question in the title is critical to you achieving your potential in life – both as a person and as a leader.
What is your Mount Everest?
As an individual, what do you want to achieve in your life?
What experiences do you hope to have?
What are the big goals you are working to reach?
And as a leader, what is your vision for your team or organization?
What are the most important skills you need to learn or hone?
What is the biggest difference you hope to make for your team, your organization, and your Customers?
Consider these questions your leadership activity for the day.  Taking action on your answers to these questions may result in scaling metaphorically heights you never thought possible, just like many thought the top of Everest was unattainable.
Ask, answer, and do!