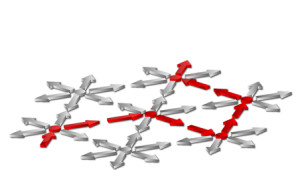 Last Friday, I featured a quotation from this great author. Today, another one from him. Why? Because it is important, because it connects to the one from last week, and because we all need to be reminded of it.
"Effective people are not problem-minded; they are opportunity-
minded. They feed opportunities and starve problems."
– Stephen R. Covey
Questions to Ponder
– Do I see more problems or opportunities?
– Which am I looking for?
– How could I "feed opportunities" more?
Action Steps
1.  Spend today working on an opportunity you already know exists.
2. Do an opportunity scan – scan your environment expectantly looking to find an opportunity.
3.  Encourage those around you to opportunity scan as well.
4. Return to step one.
My Thoughts
Last week, I shared the idea from Dr. Covey that we need to live in our imagination, not our history. Today, he encourages us to feed our opportunities. While I suppose you could live in an imagination of fear, anxiety, and problems, implied last week was a positive imagination of the future. Today's idea takes us further.
Do you see opportunities or do you see problems?  Both exist all the time – often, in exactly the same circumstance. If you inherently believe this idea, you realize that you can choose which one to look for. If you know you are in a complex picture with lots of people in it, you will look until you find yourself, because you know you are there.
We must feed the opportunities and train our eyes to look for them if we want to move forward.  As leaders, we are feeding more than ourselves – we are feeding others as well.
The choice of what to look for is yours.  The choice of what to feed is yours.
Choose wisely.