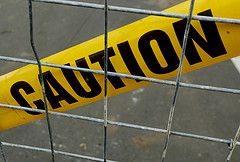 The United States Congress passed the Cigarette Labeling and Advertising Act in 1965, and in 1966 the first labels were placed on cigarette packaging –
Caution: Cigarette Smoking May be Hazardous to Your Health
I sometimes wonder if leaders should have a warning that they have to read regularly, to remind them of some important things too. The Surgeon General wants us to remember his warning, and employees would like us as leaders to remember these warnings as well. Over the years the warnings on cigarette packages have become more urgent and direct, but I will write mine in the style of the first one written above. It isn't a complete list, but it is a start . . .
Caution: Under-communication May be Hazardous to Productivity and Success
Of all the concerns/complaints employees have about organizational life, the lack of communication is near the top of the list. As a leader, regardless of our level in the organization, we can communicate more. Share what is going on – more often. And remember that communication isn't just about talking – but about listening. Make this your new motto in meetings and one-on-one conversations – talk less and talk later, giving other people time to share and ask questions.
Caution: Too Busy isn't a Good Reason to be Unavailable to Your Team
Leaders at all levels in all organizations are busy. Projects, meetings, and fires are always clogging our calendar. As a leader you must make time for your team. Supporting them, encouraging them, listening to them and coaching them – these are perhaps the most important responsibilities you have as a leader. Remember that "the work" will overwhelm your calendar, leaving you unavailable (or perceived to be) by your team, unless you make space and time to be available for them.
Caution: Micromanagement May Cause Bigger Problems Than it Solves
No one wants a leader who micromanages them – and yet many of us do it sometimes. While there are many reasons why we check on projects (or do it ourselves), the biggest reason is that we want the work product to be "right." While "right" is important, it is also important to empower your team members and prove your trust in them. Why not coach and prepare them to do the job "right" (or allow them the freedom to find a better way) rather than micromanaging them?
Caution: Poor or No Relationships with Team Members Reduces Organizational Results
Our job as a leader isn't to make friends with those we lead, nor is it to behave in ways with the goal of getting people to like us. On the other hand, we all want to have good relationships with our bosses – and one of the main reasons people leave a job is because of their boss. As a leader we must build strong, trusting working relationships with our team members if we want to maximize the results of the organization – and make work more enjoyable for everyone too.
Caution: Trying to be Perfect is a Recipe for Disaster.
Sometimes leaders think they are supposed to have all of the answers and be perfect. That is impossible and a bad plan anyway. Our followers want us to be real and authentic. It is OK to not have all of the answers. One of the most powerful statements you can make as a leader is: "I don't know, let's find out."
……
Perhaps these cautions should be placed on all leadership job descriptions and also someplace they can be seen daily. While the warnings on packaging hasn't stopped all smoking, since the start of the labeling, cigarette smoking in the United States has been cut in half. I hope in a similar way these reminders might help leaders be more effective.
Perhaps you might create different warning labels, and if you have them to share, I hope you will put them in the comments below. Even if you do, I encourage you to pick one of the warnings I've written and consider it in your own leadership style and habits – making sure you aren't making a mistake that keeps you from leading most effectively.
photo credit: Nina Matthews Photography via photopin cc