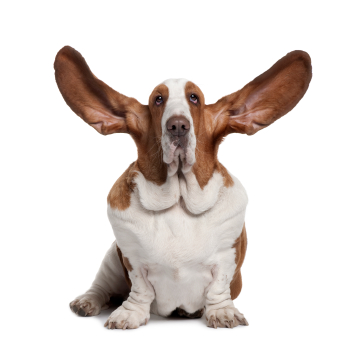 I heard it on the local morning news about ten minutes ago.  "A new poll shows that one in ten people think pets are better listeners than people."
Really?
So I went to find the background on the web.  As I was starting the search my son asked me what I was doing.  I told him what I heard, and he said, "It might be true.  After all we have all these things we are thinking about, and a dog only has two things on his mind: food, and finding someone to scratch his belly."
Boy, I've got a smart high school senior.
So first, the poll.  An old press release from petside.com gives you more details.  Here are a couple important points:
A third of pet-owning married women said their pets are better listeners than their husbands.  One person said, her pets can "read my emotions better than my husband."  (Wow.)
Overall, 25% of people think pets are better listeners than spouses.
the 1-in-10 stat quoted on TV was a bit high.  It is really, according the to survey, only 8% (Doesn't that make you feel better?).
So there are tons of principles for us here.  If you are in a listening profession (which is EVERY profession), read and take action on the ideas below.
The bar is low.  Really low.  Too many people don't listen nearly often enough.  If some people think a dog or cat listens better than people (the poll didn't mention fish, snakes, or gerbils).  You don't have to work too hard to stand out from the crowd as a listener. 
How will you listen better today, and to whom?
Shut up and listen.  YouTube and America's Funniest Home Videos notwithstanding, I have never seen a dog or cat that talks or can carry on a conversation.  Always remember that listening isn't about talking or giving advice.  It is about shutting up, paying attention, and really trying to understand the message of the speaker.  Of course there are things we can do like paraphrasing the speaker to clarify that require us to speak, but given our listening standing compared to pets, maybe we should consider this an advanced strategy. 
Do you talk too much when you should be listening?
Pay attention.  My son Parker hit the nail on the head.  We aren't listening because we are thinking about too many other things.  Listening is a form of service, a form of respect, and a sign of discipline.  The more you can shut off your flow of thoughts, and get out of yourself and into focusing on the other person, the more effectively they will feel you are listening.  
How well do you avoid distractions and turn off your mind when listening to someone else?
Listening effectiveness is determined by the speaker.  You don't get a vote.  Yes, there is the objective view that listening is about understanding the words and meaning of the other person.  Yet, no one believes the Fluffy or Fido really understands.  They jsut know that how they feel when someone is paying attention when they are speaking.  Always remember that being an effective listener has both logical and emotional components, and a big part of the disconnect is that we as listeners judge our skills objectively –  hearing and understanding the words – but the speaker is judging more on emotions – do they feel like you are listening and does it seem like you care. 
What does the body language of those you are listening to tell you about how they are voting on your listening skills?
And finally some overall questions for us as leaders:
How effectively are you listening?
How are you helping your team and/or organization listen more effectively?
Who will you first apply these ideas on?  (hint, while your team or Customers might have come to your mind first, I'd start with yoru spouse – they might have taken the poll).