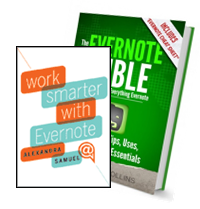 One of the top resolutions each year is to be better organized or be more productive.  I wrote today's recommendation with that thought in mind…
About a year and half ago, I wrote about and recommended Evernote – the star technology in my personal strategies for personal productivity and effectiveness.  If you don't know about Evernote, you will want to start here, because the books I am recommending below both are designed to help you get more value from using this fantastic, versatile, and free tool.
These two resources are both about Evernote, they are both very inexpensive and are available only in Kindle format.  Before you stop reading because you have a competing e-reader or no e-reader at all, know that you can read Kindle books on your pc, smart phone or tablet.  There, I've eliminated all the excuses.  Let's get on with improving our productivity!
Besides subject matter and format, these books are also both quick, easy reads with specific ideas for using the tool.  They don't get bogged down in screenshots and the technical aspects of the software (if you need that sort of help, it is available in many places) help you get more productive and organized.
I bought and read these two books this week because I want to use Evernote better and in more ways.  Either of them will do that.  I am recommending both because they are inexpensive, short, and well worth the investment.  If you only want one, use my short descriptions below to choose, but if you asked my recommendation, I'd buy both (even if you aren't a beginner).
The Evernote Bible – The Guide to Everything Evernote, Including: Tips, Uses, and Evernote Essentials by Brandon Collins.  This book is the better of the two if you want to be more creative with the tool and covers some ways to use the tool I had never considered.   The Appendix with the 99 ways to use Evernote is worth 10 times the purchase price.
Work Smarter with Evernote by Alexandra Samuel.  I bought this one first, based on reading a blog post from the author.  This book is brand new (published December 18th) and it has lots of great ideas for, as the title promises, working smarter.  Of the two, this book would be the one I would pick if I were just starting.  The 30 minute setup chapter is excellent.