Are you a leader who . . .
– Has challenges you aren't quite sure how to solve?
– Finds themselves frustrated with different aspects of your work?
– Knows you can build your skills and make a bigger difference, but don't know how?
– Wants a promotion to a higher level of responsibility?
– Has high expectations for yourself?
– Is ready to take your leadership skills to a higher level?
If your answer to any of these questions is yes, I have two great learning opportunities for you in the month of June!
In Chicago, June 19-20, I will be presenting the very first Advanced Leadership Training Camp.  After offering the Leadership Training Camp for nearly 5 years, we have added an advanced workshop.  This two day experience will give us a chance to explore advanced topics and give you tons of time to work on your specific challenges. All the details and registration information can be found here.
If you are a leader with significant experience and are aching for a chance to learn more in a supportive and collaborative environment, this is your chance!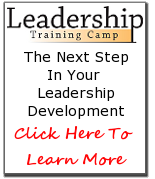 In Seattle, June 27-28, I will be offering the Leadership Training Camp for leaders wanting to take their next step too!  For the details of this super successful program and registration information (including testimonials) go here.
As a reader of my blog, if you sign up for either workshop using this code UYRP, you will receive a 2 CD set of your choice worth $99 or have dinner with me during the workshop – your choice!
If you have specific questions about either program (or if you want to discuss bringing either into your organization, email Marlene, and she will schedule a mini-consultation with me.