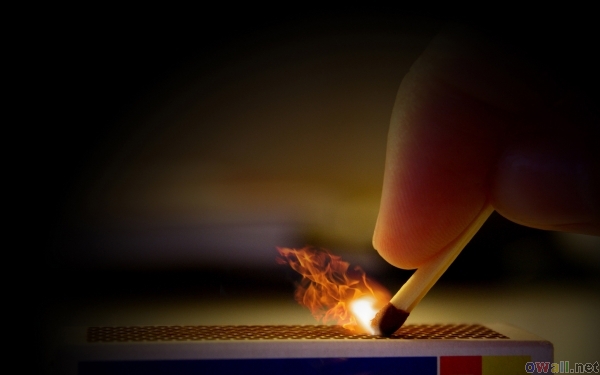 During a recent guest conversation for members of our Remarkable Leadership Learning System, creativity expert Josh Linkner said "an idea is a like a spark."  I'm sure that isn't the first time I've heard that metaphor, but it struck me in a new way.
Like you, I've experienced sparks, and while they can inadvertently start a grass or wildfire, more often the spark doesn't occur in a place that allows a fire to start – and the spark fizzles to nothing.
And once the spark dies, you won't revive it . . . it's gone.
Josh's comment got me thinking about ideas, and how like sparks, they are fragile and temporary when then hit; they aren't fully formed and they are rarely ready for prime-time.  Like anything fragile, they require some care, attention and nurturing to turn that spark into a flame capable of changing processes, businesses, lives and fortunes.
Turning Your Spark into a Flame
Have you ever tried to light a campfire or bonfire? If so, you know some the basics of turning a spark into a useful flame.  Staying with the "ideas are like sparks" metaphor, let's see how we can create some flames of innovation.
Sparks need oxygen. Putting your spark in a place without enough oxygen is a guarantee to snuff it out.  Are the ideas that arrive in your mind or in your meetings allowed enough chance to breathe at the start?
Sparks need fuel.  A fire needs something to burn (not just oxygen).  Ideas that have the chance to "catch on" must be directed at an important goal.  If ideas are connected to a goal or will solve a problem, they have a better chance of growing and becoming meaningful.
Sparks need time. Unless conditions are absolutely perfect, sparks don't become flames immediately – they take time to grow.  So too with ideas, time and patience are required for ideas to develop, crystalize and become full-fledged lightning bolts.
Sparks need the right environment.  Sparks need the above three factors, but they need the right combination of them too!  Oxygen is needed, but a stiff wind (which brings lots of oxygen) will put out the flame.  Sparks need fuel, but the right kinds of fuel in the right proportions too.
Sparks don't need water.  This is an obvious statement; the way we put out fires most often is with water.   Yet in meetings across the world, everyday new idea-sparks are doused by cold water from others.  "That will never work".  "It isn't in the budget."  "That's a dumb idea."  These are just three simple examples of the cold water that gets tossed on sparks all the time.   Maybe a fire can withstand a bit of water, but a spark as no chance.  How are you reducing the amount of water that gets on tossed ideas around you?
Sparks can't handle neglect. The spark can become a fledgling flame, but without tending and attention, the right environment can go wrong quickly.  An ideas is like that too – even if we turn the idea into a project or a plan, it can't survive without nurturing, support and effort to implement it.
Sparks can't survive the lack of resources.  That constant tending means additional fuel might be needed; some additional airflow might need to be added.  With your ideas, they will grow when they are supported by the time, effort and money needed for success.   Limiting resources too severely will negatively impact the success and progress of an idea just like limiting resources will keep what could be a raging fire as a small, inconsequential blaze.
When you get all of this right – giving a spark what it needs, and keeping away what it doesn't – it grows into a fire that can warm a body, provide light and make a difference.   When it comes to ideas, we must treat the idea-spark carefully and intentionally if we want to turn those sparks into implemented ideas that can make a difference for our businesses and our world.
If not, your future might not look very bright.