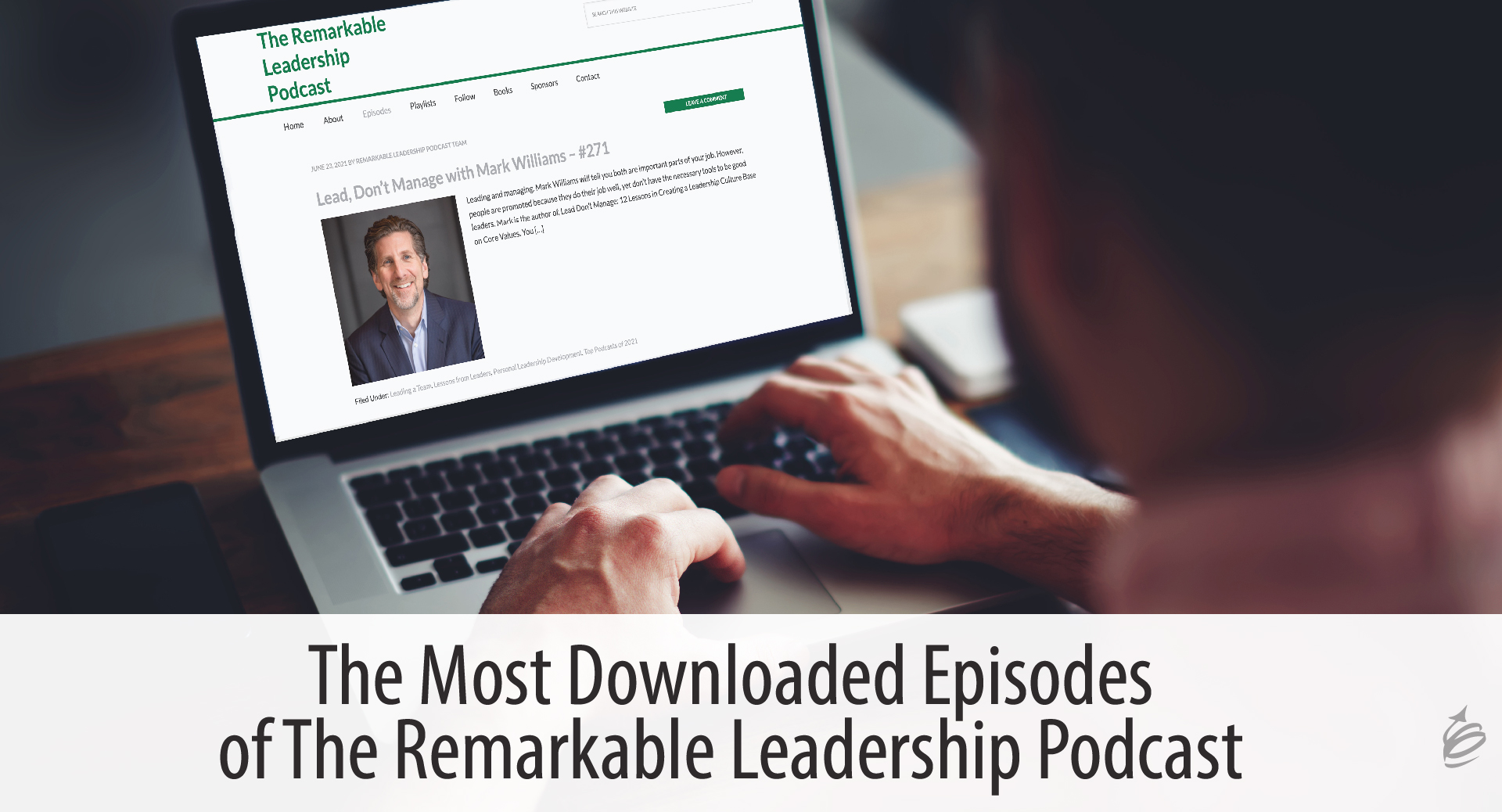 2021 brought a growth in podcast listening across all genres. With that growth comes an expansion of podcast offerings. The Remarkable Leadership Podcast debuted in 2016 and continues to become more popular with listeners. You may listen to podcasts in other genres, like true crime or comedy. But since you are here right now, you are likely also interested in the top leadership podcast episodes of 2021.
So let me share them with you.
The Top 10 of 2021
These are the ten most downloaded guest episodes of the Remarkable Leadership Podcast in 2021. Let's count them down, Casey Kasem-style…
#10 Lead, Don't Manage with Mark Williams: Mark and I discuss the difference between management and leadership. We make a case for why we must get better at the complex role of leading others.
#9 Talk Shifts – Ways to Transform Leadership with Krister Ungerböck: Krister and I talk about how we can shift our thinking and communication to get better conversation and relationship results.
#8 Work Disrupted with Jeff Schwartz: Jeff and I talk about the future of work and 21st-century careers in this forward-looking episode.
#7 How to Communicate Effectively with Anyone, Anywhere with Raúl Sánchez and Dan Bullock: The title says it all. And we delivered in this lively, three-person conversation.
#6 The Habits and Mindsets of Leadership with Darrin Gray: What it really means to lead, and how our mindset plays a crucial part in our leadership success.
#5 Mastering Your Thoughts and Emotions with Todd Stottlemyre: Some of my conversation with Todd was about his World Series-winning Major League baseball career. We also discussed how to understand, control, and use our thoughts and emotions to get the results we desire.
#4 Understanding Collaboration with Carlos Valdes-Dapena: Carols and I talk about why collaboration happens, what keeps it from happening, and how to make it better. And we dispel a few myths along the way.
#3 Building Exceptional Relationships with David Bradford and Carole Robin: A wonderful conversation about what it means to have an exceptional relationship – in any part of our life. This was one of the most practical and inspirational episodes of the year.
#2 Helping Leaders Change the World for the Better with Bill Novelli: It is profoundly true that nothing great will happen without leadership. Bill and I talk about how to make a difference as a leader, whether we have a title or not.
#1 Connecting with Others Through Listening with Ximena Vengoechea: Listening is a skill we all do, and could all do better. I loved this conversation with Ximena. We went deep into some skills and benefits we can gain from listening. This was by far the most downloaded episode of the year!
Honorable Mentions
My conversation with my co-author Wayne Turmel about our new book, The Long-Distance Leader, would have been #9, if we had counted it. If you want to listen to us, you can do that here.
I shared more of my personal lessons and action plans from the top 5 in this video.
This is a great place to start dipping into the wisdom shared this year. You can also find the full archive, specific playlists, and subscribe through your favorite app all from here. I hope you listen to some of these top leadership podcast episodes from 2021, and join us regularly in 2022.