This week's Resource Recommendation is Today We Are Rich:  Harnessing the Power of Total Confidence by Tim Sanders.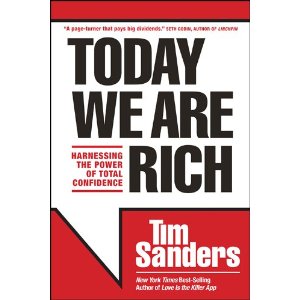 I've always liked Tim Sanders and I've read his other books, most notably Love is the Killer App and The Likeability Factor. Here is my recommendation.  I've also traded a few emails with Tim, though we haven't met.  Because of these facts, I looked forward to his new book.  I expected to like it.
I was wrong.
I don't like this book, I love it – it is the most valuable book I have read so far this year.
Why?
Tim talks about a topic that is critically important to our success and well being – confidence – and then shares specific principles to help us build it:
Feed Your Mind Good Stuff
Move the Conversation Forward
Exercise Your Gratitude Muscle
Give to Be Rich
Prepare Yourself
Balance Your Confidence
Promise Made, Promise Kept
All of this is solid advice – and while not "new" it is worth re-learning and applying, and Tim delivers it with great care for the reader, sprinkling in references to classic self help literature (more on that in a moment), with his own stories and examples.
Those classics that are mentioned, recommended and quoted are a list of books often read and kept proudly on my shelf, including works from Claude Bristol, Norman Vincent Peale, Dale Carnegie, Maxwell Maltz, James Allen, David Schwartz and Napoleon Hill.  (If you are unfamiliar with any of these authors, buy this book immediately, but you have more to add to your library, too).  While I have read all of the books cited and explored, Tim brought a freshness and vibrancy, while casting all of their advice around his principles of confidence and abundance.
Lastly I love this book because of the opening chapter about his Grandmother Billye.  While that story and her lessons are woven throughout the book, that opening chapter alone is worth your investment in the book.
I left this book with three major insights.
–    I was reminded of some things I do well and some things I need to rededicate myself to.
–    I understood why I feel connected to the author – we have more in common than I realized, which makes that connection make sense.
–    I have books to buy – for my children and my whole team.
If you trust me, you have one to buy too – do yourself a favor and buy a copy of Today We Are Rich, today!