By Daniel Pink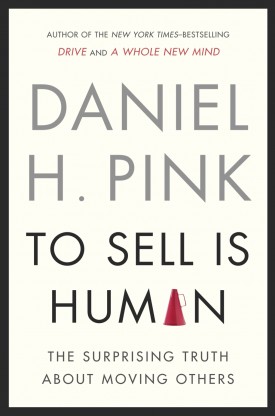 This book, written by a multi-time bestselling author, starts with a clear premise: that we are all in the business of sales.  Specifically he finds that 1 in 9 Americans are involved in selling and the rest are involved in "non-sales" selling. Further he states, and experience agrees, that we spend up to 40% of our time moving or persuading people.
I like Pink's writing style and approach and agree with his premise.  To prove that point, I went so far as to write that the best leaders are great salespeople.  He spends about the first third of the book laying out this premise and talking about how the world is changing, and that his ideas really are important to all of us.
In taking this tact, I had two thoughts:
He is practicing what he preaches in the rest of the book (he does, after all, want to sell you on his ideas)
Because I was already sold on his premise, while this was entertaining, it wasn't as necessary for me.  For a broad audience though, this makes sense.
The rest of the book is laid out in a straightforward way – here is a glimpse at the Table of Contents
B. HOW TO BE
4. Attunement – Bringing oneself into harmony with individuals, groups, and context. Illustrates the three rules of attunement and why extraverts rarely make the best salespeople.
5. Buoyancy – Learn from life insurance salespeople and the world's premier social scientists what to do before, during, and after your sales encounters.
6. Clarity – The capacity to make sense of murky situations. One of the most effective ways of moving others is to uncover challenges they may not know they have.
C. WHAT TO DO
7. Pitch – The six successors of the elevator pitch and how and when to deploy them.
8. Improvise – Understanding the rules of improv theater deepens your persuasive power.
9. Serve – Essential principles for meaning in sales: Make it personal and purposeful.
While all helpful, I believe the strongest, most valuable section for me is the "How to Be Section" – these ideas are often not considered, and as a leader these components are critically important.
If you picked up the book based on the title, you might expect the book to be mostly about section three.  If that is all you are looking for, there are likely better, more in depth books.  This book does successfully provide ideas and frameworks on "what to do" and is an enlightening and fun read to get your feet wet in these areas as well.
Overall, if you are leader, you should be interested in the premise and promise of this book – and you should read it.  It shouldn't be the last book on the subject you read, but it is a very good starting point.