Last Friday I posted a "Final Four" of learning quotations, and asked readers to vote on their favorite.   Last night the Men's national basketball champion was crowned, and this morning the winner of the Final Four of Learning will be announced.
Right here, right now.
In a very close race conducted via comments, emails and a poll on my Facebook Fanpage, the winning quotation was the shortest, and the oldest.
"To learn you must want to be taught." – Proverbs 12:1
When I announced this poll, I promised to give a signed book to a randomly selected voter for choosing the winning quotation.  That person is Ethlyn Garlichs, who we will contact and get them their prize.
Congrats Ethlyn!
I also promised to do a Powerquotes post based on that winning entry.   And here it is…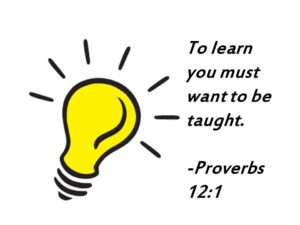 Questions to Ponder
What do you want to learn?
What am I willing to be taught?
What are some of my best learning experiences?
Action Steps
Decide what you need to learn today, this week or this month.
Let go of your fears and pride.
Find someone or some way to learn it.
Allow yourself to be taught.
My Thoughts
If you want to learn you must be open to the learning.  You must humble yourself. You must say you don't know.  You must want to be taught. It seems so simple and it seems so easy.   It is simple.  It isn't always easy.
Sometimes it is. You find yourself in an exciting new situation and your curiosity and interest allows you to open up to try and to learn new things.  When you reflect on the question above about best learning experiences, you will remember some of these.  Don't just remember them intellectually; take time to take them in and bask in what happened and how you felt.
Feels good doesn't it?
Watch a child for a short while and you will see that as humans we are born to learn.  Watch adults for a while and you will see that we sometimes seem to avoid it.
The power of this quotation from Proverbs is that it reminds us that learning doesn't start externally – with the experience, the information or the teacher – it starts in our hearts and minds.
If you want to learn more get out of your adult self's way.  Be open.  Be curious.  and seek the learning that will help you achieve what you want to achieve.