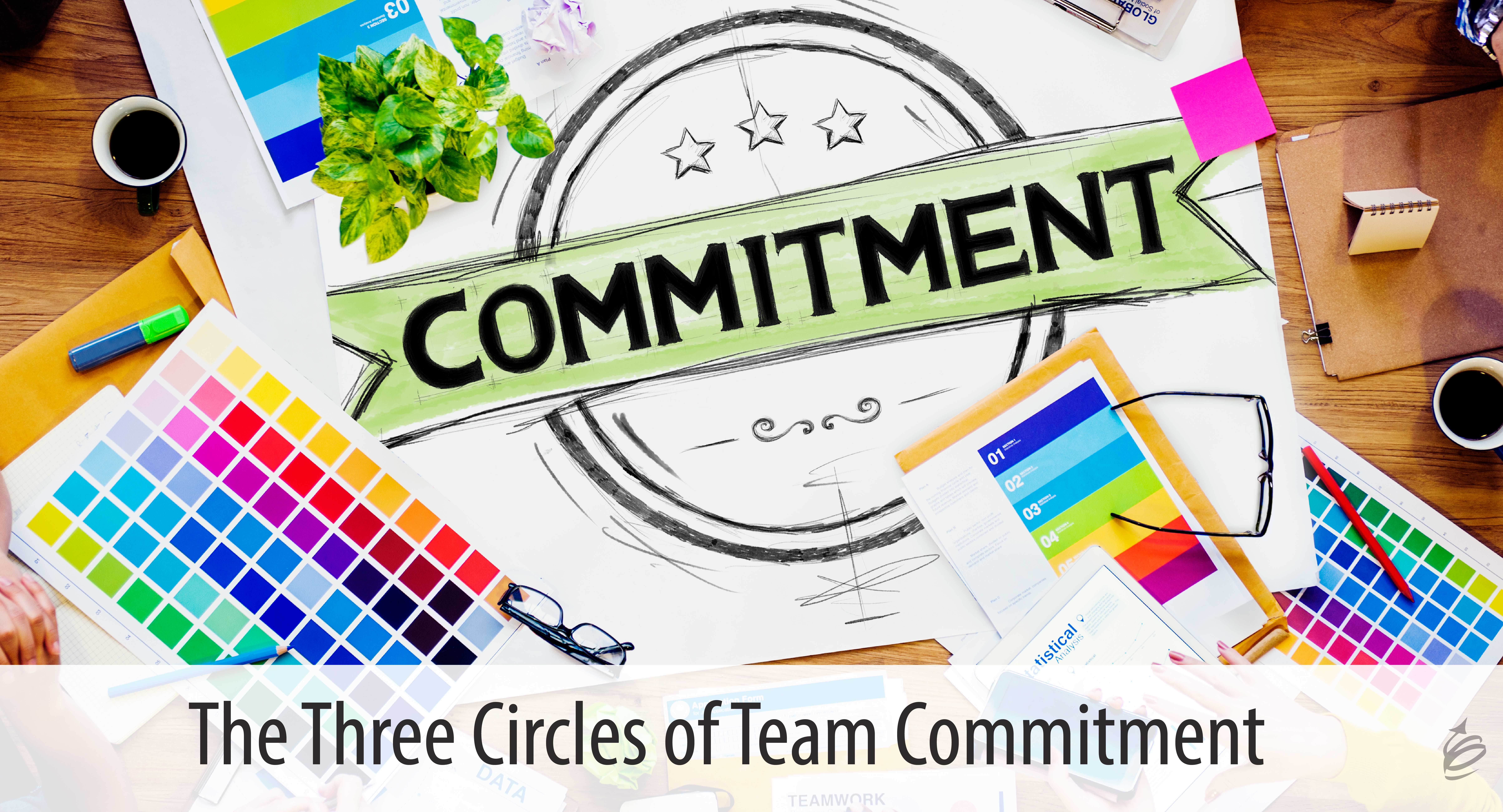 Having team commitment seems like a good thing (it is). But it isn't something people always think about or feel like they have much influence over (you do). Even if you want to and believe you can improve your team commitment, you must know what you are trying to improve. Because team commitment isn't one thing – there are three types – or circles – of team commitment.
I call them circles, because that is how we think about our relationships with others. The people you trust and care about are "in your circle." I'm extending that metaphor to commitment. The three circles of commitment are:
Commitment to each other
Commitment to the team
Commitment to the organization
Let's talk about what each is, and why it is important.
Commitment to Each Other
The level of commitment to each other is a measure of the interpersonal relationships and trust that exist among individuals on the team. When people have a higher commitment to each other, they will support and reach out to help each other in the short and long term. Their motives are largely personal, and the level of this commitment might vary from one team member to another.
The foundation of interpersonal relationships is a powerful one on which to build work structure and process. This level of commitment is personal, and therefore, isn't directly connected to the work. But once this level of commitment and connectedness is in place, it is easier to build the other two.
Commitment to the Team
Commitment to the team goes beyond the individuals you work with – but to the work of and goals of the team itself. This is a commitment and level of caring about the work and the work outputs.
When people are committed to the team, they go the extra mile, are more diligent, and act in the best interest of the team – both as a group and for the outputs. High levels of commitment to the team breed pride, but can also create organizational silos, where people focus on the team and their outputs as their only and ultimate goal.
Commitment to the Organization
The more people care about the mission and goals of the organization, the more committed they are to the organization. This is what people think about when the generic, "Are they committed?" question is asked.
It's obvious that commitment of this type is valuable and important to organizational productivity and results. We want people to support, believe in, and be committed to the big picture and the purpose of the organization. And now you realize that while all three circles are separate, they can build on each other. In other words, it is easier to build one of the circles if you have more of the other two to start.
So What?
Once you understand these three circles, you can ask yourself a couple of important questions:
In which circle do we need more commitment?
What can I do next to create or nurture that type of commitment?
When you think about commitment broadly, it might not be helpful. It often feels "too big" to know what to do about it. Once you have a model, you can look at team commitment differently and more productively. It is the first step towards improving that commitment – whichever circle it is in.
…..
Team commitment is just one of the areas we cover in The Remarkable Way. Learn more about this transformative group of leaders.