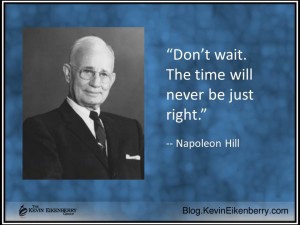 Often, the best quotations are the briefest. If you read these Friday posts frequently, you will see that I usually select ideas that are stated briefly. Today is another example. Read it twice, then get to work.
Questions to Ponder
– How often has waiting served me best?
– How many times do I wish I had started sooner?
– What is stopping me now?
Action Steps
1. Identify what you want to accomplish.
2. Identify one thing you could do towards that objective today.
3. Do that thing (now).
My Thoughts
There are many reasons we procrastinate.  Actually, let me make this more personal – there are many reasons I procrastinate. And none of them really aid me, support me, or help me achieve my goals. Hill cuts to the point of one of the biggest reasons we wait though – we wait for "the right time."
We have common phrases for it – we wait "for the stars to align," to "get all of our ducks in a row," or "until we get our brains in gear." It sounds good. It seems to make sense. But beyond the justifications,  it is just waiting.
Conditions might improve, but it might take a long time. Why not just get started? If you have something important (or even something small but nagging) to do, why not take Hill's advice and stop waiting, and start doing?
Even your own experience will tell you, you will be glad you did.